Aoba Class of 2021 Graduates
31 May 2021
Congratulations to the Class of 2021
A momentous Graduation Ceremony was held on 26th May for the class of 2021. The ceremony was held on Aoba's outdoor field, attended by parents and also streamed live to families and friends.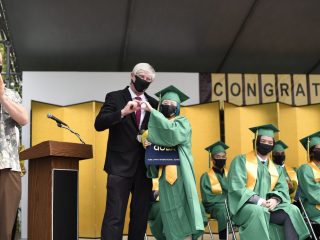 We are proud of all of our graduates, many of whom have already received acceptance into their choice of colleges around the world, including Australia, USA, Japan, UK, and Belgium to name a few.
Graduate speeches reflected on their commitment and achievements, their friendships and some loneliness of having to take 50% of the final year of classes online, and lastly the gratitude to their parents, teachers and to each other.
Yuzuki Kobashi received an Aoba loyalty award for completing 14 years of education at Aoba.
After the ceremony, we received a touching message from the family of one of our Graduates. They kindly allowed us to share:
Thank you very much for holding the graduation ceremony yesterday under the circumstances of Covid 19. The marvelous speeches by Mr. Shibata, Ms. Sell, and all the students, the tent under the blue sky, the music, the bouquets, the photoshoot, and the souvenir lunches, all became unforgettable memories for us.
Karin has been studying at Aoba for six years now. As a parent, I can honestly say that she has grown into a thoughtful and caring person. Until last year, I had no idea what kind of classes Karin was taking, how she was interacting with her teachers, and why she had grown so much. However, with the online classes provided due to the Covid 19, we, the parents, were able to experience the great curriculum of the IB program and the wonderful teaching of all the teachers had provided for the students.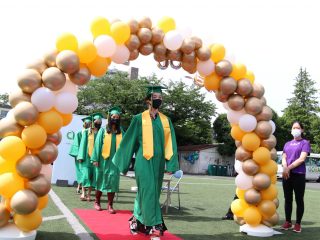 Karin was also given chances to learn about the beauty of Japan and the joy of travel by being taken to Kumano Kodo and mountain climbing. These also became unforgettable experiences.
I thought I had received a good education, but I feel once again that the education Karin received at Aoba goes much beyond that. It was a magnificent program that nurtured her warmth and humanity at the same time.
Karin's dreams may change in the future. However, she will never lose the foundation you all had helped her to build at Aoba. Karin will be able to fly like a rocket into the sky.
Congratulations Graduates!