Online Seminar on 7th December "How to create lessons that nurture students' ability to ask questions"
18 November 2022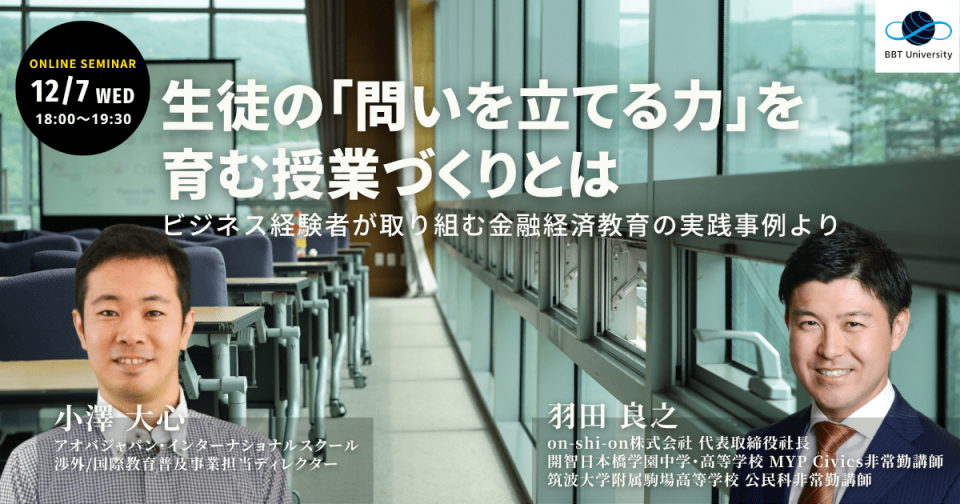 On 7 December, Kokoro Ozawa, Director of External Relations and International Education Outreach will participate as a guest speaker and moderator for an event organized by Business Breakthrough (BBT) University to answer questions related to inquiry learning.
———————————————————————————————————————————————–
The Comprehensive Time for Inquiry, a seminar by BBT University aimed to develop the skills required in society, focuses on the 'ability to live'. In addition when teaching students and encouraging them to 'find questions from the relationship between the real world, real life and oneself' it may be necessary to bridge the gap a little in order for the students themselves to see the topics as their own personal matters and to connect them to their own learning and way of being.
This time, we will hold an educational seminar to discuss practical examples of financial and economic education by people with business experience, and to consider opportunities to nurture students' 'ability to ask questions'.
If you are interested in the following topics, please join us!
Obtain hints for creating lessons for inquiry based learning.
Obtain hints for creating lessons in financial and economic education.
Review the process by which students learn from the real world and real life.
To learn about the experiences of people with business backgrounds who are in education and teaching as a second career.
<Summary of the event>
Date: 7 December 2022 (Wed), 18:00-19:30 (doors open 17:50)
Capacity: 100 people (first-come-first-served basis)
Place: Online (Zoom webinar)
*Participants will be able to watch with video off and audio off.
Participation fee: Free (Registration required)
Target: Junior high school, high school and university staff, cram school and prep school staff, parents, high school students, university students, members of the press, etc.
Schedule on the day of the event:
18:00-18:10 Introduction of speakers
18:10-18:40 Introduction of practical examples of financial and economic education (Mr. Yoshiyuki Haneda)
18:40-19:00 Considering hints for question formulation based on case studies (Mr. Kokoro Ozawa)
19:00-19:30 Discussion and Q&A
Click here for read more details on the official website of this event