Terms & Conditions
ENROLLMENT
AOBA-JAPAN INTERNATIONAL SCHOOL (Aoba) TERMS AND CONDITIONS OF ENROLLMENT
Upon accepting an Offer of Admission from Aoba, you accept and consent to all Aoba policies, terms, and conditions of enrollment. Parent/guardian/student non-agreement or non-compliance with the Aoba enrollment policy may result in withdrawal, admission, or exclusion from enrollment.
Disclosure, Consent, and Permissions:
I confirm that I am this student's parent or legal guardian, that I have full authority to enter into this contract, and that by consenting to these policies, terms, and conditions, consent by all other legal guardians of this student is implicit.

I understand and agree that failure to fully disclose any and all information as requested on the Aoba requested forms may result in incorrect grade or program placement, nullified acceptance, or withdrawal of enrollment.

I give permission for Aoba to receive and release information from or to any of my/our child's past, current or future schools, educational institutions, or student support providers.

I understand that continued enrollment at Aoba is conditional on my child remaining in good academic, behavioral, and financial standing.
By enrolling my child at Aoba, I commit to:
Accepting and supporting my child's grade level placement, class list placement, EAL placement, and Learning Support placement and service model.

Supporting the school's mission, vision, values, strategic objectives.

Ensuring my child's regular attendance at school.

Ensuring that my child will be living with a parent, or a legal guardian acknowledged by the school for the duration of his/her enrollment at Aoba.

Reading, understanding, and following academic and behavior policies.

Working in partnership with the school to support my child at home in order to help him/her meet the school's academic and behavioral expectations.

Reading notifications sent from the school to ensure knowledge and understanding of the school's academic programs, curriculum, and co-curricular activities.

Using the channels of communication established by the school when seeking a resolution to a problem or concern.

Paying school fees and all other fees invoiced by Aoba in accordance with and adherence to the School Fee Schedule.

Accepting the school's decision to temporarily close and/or temporarily move to online learning due to immediate or imminent threat to the health or safety of students, staff or community members. This may be due to emergency, critical incident, extreme weather, pandemic, power failure and the like. There will be no reimbursement of school fees for unexpected temporary school closure.

Enabling my child to participate in the mandatory

Bring Your Own Device (BYOD) Program

. As a blended learning school, it is a requirement that all students in G1-G12 are part of the BYOD program. G1 – G3 students need their own iPad, while G4 – G12 students need their own MacBook. Students should bring their charged devices to and from school daily. Device specifications will be provided upon student registration.

Enabling my child to participate in the mandatory

Residential Trips (for MYP students, G6-G10)

. MYP students are expected to attend the annual residential trips as part of the MYP framework. The inquiry-driven trips, to various locations within domestic Japan, are directly linked to the MYP curriculum; failure to attend may result in failure of the related unit. In the event of an unavoidable or exceptional circumstance that may prevent participation in a residential trip, we request the parents contact the school as soon as possible to discuss.

Understanding that Aoba is an IB school that implements the PYP, MYP and DP curriculums. I agree to read and understand the relevant

International Baccalaureate Organization (IBO) Regulations

before enrolling my child in each respective IB program at Aoba.




PYP:

https://www.ibo.org/globalassets/publications/become-an-ib-school/general-regulations-pyp-en.pdf




MYP:

https://www.ibo.org/globalassets/publications/become-an-ib-school/myp-general-regulations-2015-en.pdf




DP:

https://www.ibo.org/globalassets/publications/become-an-ib-school/dp-general-regulations-en.pdf

Understanding, agreeing to, and following all other Aoba Policies. 
RECORDS MANAGEMENT POLICY
I understand and agree that the school maintains cumulative records of all student files including application documents, school records, and confidential documents.  Paper records are kept in locked file cabinets on campus.  Digital records are stored in a secure, private, in-house server.  Only certain staff and faculty have access to student records including, School Administrators, Student Support Team members, Admission Office personnel, and Campus Registrars.  Teachers can access these records on request if need be.  Parents have a right to request access to their child's records, except those for which they have waived rights of access (e.g. Admission test results, confidential references).
I understand and agree that upon a student's withdrawal or graduation from Aoba, the school will only forward documentation accrued during the student's enrollment at Aoba. The school will obtain written consent from the parent before forwarding confidential records.
I understand and agree that the school will keep student files for 20 years after withdrawal of enrollment or graduation after which student records will be destroyed and/or permanently deleted from the server.  High School transcripts and report cards will be kept indefinitely and securely as both digital and hardcopy documents.
CHILD PROTECTION POLICY
Aoba-Japan International School Student Protection Guidelines
This guideline was adopted on 28 August 2020 (next review : August 2021)
Introduction
1.1 This policy has been developed in accordance with the principles established by the UN Convention on the Rights of the Child (1990), Children Abuse Prevention Act 2000 (Act No. 82 of 2000) and Child Welfare Act 1947 (Act No. 164 of 1947) in Japan, and also the guidelines provided by Ministry of Education, Culture, Sports, Science and Technology-Japan (MEXT), the Tokyo Metropolitan Bureau of Social Welfare and Public Health and the Center for Child Abuse Prevention (CCAP), and the CIS Code of Ethics. This procedure will be reviewed and updated as needed.
The World Health Organization (WHO) defines child abuse and child maltreatment as "all forms of physical and/or emotional ill-treatment, sexual abuse, neglect or negligent treatment or commercial or other exploitation, resulting in actual or potential harm to the child's health, survival, development or dignity in the context of a relationship of responsibility, trust or power."
Types of Abuse
2.1. Abuse can be:
physical abuse, for example, beating or punching;

emotional abuse, for example, rejection and denial of affection;

sexual abuse, for example, sexual assault or encouraging a child or young person to 

view pornographic material;

neglect, for example, failure to provide appropriate care including emotional or medical attention
2.2. Students harming themselves, for example through cutting, burning, or misuse of substances as well as forms of self-harm related to anorexia and bulimia, need to be supported. The school will follow the steps outlined in the Aoba Student Protection Flowchart to notify the appropriate parties. 
Signs of Abuse
3.1 Possible signs of abuse include (but are not limited to):
The student says she/he has been abused or asks a question which gives rise to that inference.

There is no reasonable or consistent explanation for a student's injury; the injury is unusual in kind or location; there have been a number of injuries; there is a pattern to the injuries.

The student's behaviour stands out from the group as either being extreme model behaviour or extremely challenging behaviour, or there is a sudden change in the student's behaviour.

The student asks to drop subjects with a particular teacher and seems reluctant to discuss the reasons.

The student's development is delayed.

The student loses or gains weight rapidly.

The student appears neglected, e.g. dirty, hungry, inadequately clothed.

The student is reluctant to go home or has been openly rejected by his/her parents or carers.
Duty of Employees
4.1 Every employee and director/trustee of the School is under a general legal duty to:
Protect students from abuse

Be aware of the School's child protection procedures and to follow them

Know how to access and implement the procedures, independently if necessary

Keep a sufficient record of any significant complaint, conversation or event

Report any matters of concern to the school nurse who will then inform the Head of School (HoS) and Principals as soon as possible.

Collaborate with the School Nurse to complete documentation of any incident as required
Teacher-Student Interactions  
5.1 A member of staff suspecting or hearing a complaint of abuse:
If you suspect abuse, inform the school nurse.

If the student approaches you, listen carefully and keep an open mind. Staff should not make a decision as to whether or not the abuse has taken place.

Staff must not ask leading questions, that is, a question which suggests its own answer.

Must reassure the student but not give a guarantee of absolute confidentiality. The member of staff should explain that they need to pass the information to the school nurse and/or counselor, who will ensure that the correct action is taken.

Must keep a sufficient written record of any teacher-student conversations, on the current SIS platform at the time.

The record should include the date, time and place of the conversation and the essence of what was said and done by whom and in whose presence. The record must be kept confidential on the SIS platform.
Preserving Evidence
6.1 All evidence, (for example, scribbled notes, photos, mobile phones containing text messages, clothing, and computers), must be safeguarded and preserved to the best of the school's ability, within the limits of the law.
Reporting
7.1 All suspicion or complaints of abuse must be reported to the school nurse who will ensure that the HoS and/or the principals are aware.
Action by the HoS (or on behalf of the HoS):
7.2 The action to be taken will take into account:
The local inter-agency procedures of the Child, Family Support Center or/and Child guidance Office.

The nature and seriousness of the suspicion or complaint. 

A complaint involving a serious criminal offense will always be referred to the police without further investigation within the School.

The wishes of the student who has complained, provided that the student is of sufficient understanding and maturity and properly informed. However, there may be times when the situation is so serious that decisions may need to be taken, after all appropriate consultation, that override a student's wishes.

The wishes of the complainant's parents, provided they have no interest which is in conflict with the student's best interests and that they are properly informed. Again, it may be necessary, after all appropriate consultation, to override parental wishes in some circumstances. If the HoS is concerned that disclosing information to parents would put a young person at risk, or it is against the student's wishes, he or she will take further advice from the relevant professionals before making a decision to disclose.

Duties of confidentiality, so far as applicable.

The lawful rights and interests of the School community as a whole, including its employees and its trustees.

If there is room for doubt as to whether a referral should be made, the HoS may consult with external agencies. However, as soon as sufficient concern exists that a student may be at risk of significant harm, a referral will be made without delay. If required, the HoS will confirm the referral in writing to the relevant Social Services within 24 hours.
Confidentiality and information sharing
8.1 The School will keep all child protection records confidential in the current SIS platform, allowing disclosure only to those who need the information in order to safeguard and promote the welfare of children. The School will cooperate with police and social services to ensure that all relevant information is shared for the purposes of child protection investigations under Article 25 of the Child Welfare Act 1947, Article 6 of the Child Abuse Prevention Act 2000.
Prevention of student abuse
9.1 The school will not hire staff who have a record of abuse. Background checks will be part of the hiring process for employees. Applicants for Aoba positions will agree in writing with the terms of this policy as part of the contracting process.
9.2 Abuse prevention and awareness training will be provided for faculty and staff
9.3 Aoba will develop and maintain guidelines for faculty and staff to address the prevention, reporting, and investigation of student abuse.
LANGUAGE POLICY
Policy Statement
The Aoba language policy is a working document developed by staff and administration and input for the Aoba community.  The policy is consistent with the stipulated principles and practices of the IB. This policy is intended to provide an overview and guiding principles for language learning at Aoba which permeates the entire school curriculum through authentic contexts in a culturally rich and diverse environment. Our policy is a statement of agreement—one to which the staff and the Aoba community are asked to commit to so our school can achieve its mission of developing globally-minded, compassionate, collaborative students inspired to learn, take risks, and lead change in the world.
Language Philosophy
At Aoba we share these common beliefs about language acquisition and learning.
Language is an important focus because it is integral to effective learning in all curriculum areas and across all phases of learning.

Language is essential for students' lifelong learning and for their active participation in a highly complex and networked world.

We value the importance of learning the host country's culture and language. This is reflected through the teaching of Japanese langua

ge and culture from beginner to native level throughout the school.

All teachers are teachers of language and, as such, need to teach their students explicitly how to engage with the language conventions and vocabulary of their subject area.

At Aoba we believe that language is central to all learning, is used to construct meaning and deepen our understanding of the world. We believe that language is best learned in an authentic context

The acquisition of more than one language and maintenance of the mother tongue enrich personal growth and help facilitate international understanding. 

Whilst English is the language of instruction, the language policy allows students to inquire in their mother tongue to assist with understanding, inclusion, and multilingualism.

Students learn best when they are actively involved in listening, speaking, reading, and writing.  At Aoba we approach language through a variety of methods and strategies with a focus on inquiry and team-based learning. As all teachers are teachers of language where the conventions of communication are unique in a given subject, the appropriate scaffolding and teacher modeling must be in place to encourage students to succeed (i.e., lab report, literary essay, letter).

Differentiation of tasks and expectations to suit students' language levels assists students' ability to access the curriculum.

The use of language must be assessed using a balance of authentic assessments, both written and oral. Continuous feedback and student self-assessment support student learning.
The Aoba language environment
Aoba students consist of a high percentage of host country nationals and a minority population consisting of many different languages and cultures. More than half of the students speak Japanese as their first language, while less than 20% speak English as their first language. Korean speakers make up roughly 10% of the population, and the remaining 20% is divided amongst many tongues.  This has guided our choices in languages offered to our students: Japanese and English. We acknowledge that many of our students speak English as an additional language. There is a range of proficiency in English, both spoken and written across the school. Results from externally moderated and internal assessment tools such as ISA, PAT, DRA and WIDA may be used to determine the effectiveness of our language programme, and provide feedback and focus for student learning needs.
Admissions
To support students and inform teachers, an English language proficiency screener test in all four domains of literacy, reading, and writing, speaking and listening is administered to incoming students to ascertain the level of English proficiency of the student.
Children in Grades 6 and 7 with limited English will have to demonstrate their capacity to acquire and engage the language of instruction to ensure success in accessing the curriculum.
Our high school academic programme (for grades 6-12) is geared toward preparing students who are planning to go to college or university, so students need to have academic English proficiency commensurate with the grade level for which they are applying.
Language of instruction
To meet the language and communication needs of everyone at Aoba, English is promoted as the language of inclusion as it is the language of instruction and therefore the common language within the community. To this end, students, teachers, administrators, and parents are encouraged to converse in English whenever possible to ensure a sense of community and belonging.
Beliefs about bilingualism
As an IB world school, Aoba offers students the opportunity to learn more than one language and for some, the opportunity to be proficient bilinguals, with fluency in two languages. We believe that exposure to more than one language and bilingualism offers multiple perspectives, not only linguistically, but in all areas of life and learning.
Beliefs about Mother Tongue
In keeping with the IB philosophy, appropriate use of the mother tongue is encouraged, valued, and supported at Aoba.
We recognize that a solid foundation and continued development of the mother tongue language is essential in the development of all other languages and is crucial for maintaining identity, cultural understanding, and empathy. 
Japanese Culture and Language Studies support the host country students in the development of their mother tongue, these classes are offered throughout all grade levels.
The programmes have been developed with guidance from the Japanese Ministry of education standards. Aoba recognizes the need for students to use their mother tongue language to translate and clarify when the language of instruction is not clearly understood. The continued promotion of mother tongue languages is encouraged in the home environment; parents are informed of the necessity to continue the development of their native language(s). Supporting mother tongue languages provides an emotional component as the child maintains links to their own culture and their native language is valued. Academic benefits include the transference of linguistic structures and thinking skills from one language to another providing essential links and scaffolds for language proficiency.
Beliefs about additional language learning and exposure
The JSL (Japanese as a Second Language) programme promotes cultural awareness and language acquisition of the host country for the non-fluent Japanese speaking school population. We believe that the acquisition of more than one language enriches personal growth and promotes global mindedness as highlighted in the Aoba Mission Statement.   
English as an Additional Language (EAL)
Aoba will provide an inclusive programme to support EAL students in becoming proficient in English for social interaction and academic success and to enable them to fully access the IB curriculum with confidence and understanding.
In Kindergarten, complete beginners in English will be accepted. Children from Grade 1 – 5 with limited English will be provided with assistance to support them in their English acquisition.   
Inclusive EAL students in Grades 1 – 5 will have their needs met through including modifications in specific subjects as necessary, along with having language objective goals that are modified from the WIDA Can Do descriptors for students (based upon grade level and proficiency levels). These students will receive in-class support at key junctures in the day from our EAL support team.
We will employ a two-stage EAL to grade level assessment cycle for the 2020-2021 academic year, which we employ school-wide in November, February, and May. As an exit criterion, we utilize the widely used WIDA Model assessment to benchmark eligible students in the language domains of speaking, listening, writing, reading, oral language, and literacy to produce a composite, weighted score of each student's overall English proficiency level.  Teachers use these scores, along with their own formative and summative assessments, to place the students in the appropriate phases.
All faculty are enrolled in a vertically aligned programme in order to ensure the highest of professional standards, undergoing professional development in both the IB and other leading educational programmes, such as the "Teaching ESL Students in Mainstream Classrooms" certification programme from the Australian government.
English in the MYP
EAL students in Grades 6-8 are enrolled in MYP Language Acquisition classes whilst being immersed in mainstream classes for social inclusion and contextual enhancement of language acquisition, divided into Phases. We employ the MYP curriculum to support these students to progress through IB Phases 1-6, but we use the WIDA assessment as an additional assessment tool. The students are taught according to the MYP Language Acquisition guide and are assessed against the related criteria by qualified teachers who have completed IB-sanctioned training. Upon achieving a cumulative WIDA score of 6.0, students exit Phase 6 of Language Acquisition and enter the standard English Language & Literature course, along with the mainstream students who take Language & Literature as their English course. 
Japanese in the MYP
Beginning Japanese language learners are enrolled in MYP Japanese Language Acquisition class; this is organised into Phases 1-6 as with English. At the end of MYP, students may be enrolled in a Japanese language DP class according to their fluency level based on their instructors' recommendation. There are Japanese A Language & Literature, Japanese B Language  acquisition and Japanese Ab initio options available. 
Roles and responsibilities
It is recognized throughout the language policy that each facet of the community holds responsibilities in the development and use of language and in the support of student learning. To support the Aoba language policy:
Students will
Take an active role in language learning that is outlined in the Aoba language policy.

Be encouraged to seek a wide range of language opportunities.

Do their best to develop a second language if appropriate.

Have an opportunity to learn the language of the host country.

Be responsible for using the language of inclusion.
Teachers will
Be aware of the Aoba language policy.

Provide a safe and supportive learning environment.

Model effective communication.

Help students find appropriate language resources.

Differentiate between student's language needs in planning, teaching and assessing student work.

Provide timely and effective feedback about language development to the students and their parents.

Students who are not developing the requisite language skills need to be referred to the appropriate department.

Use a range of assessments and teaching strategies.

Understand their role that all teachers are teachers of language.

Engage in active communication between students and their family.
Parents will
Be aware of the Aoba language policy and support it.

Encourage, provide and support opportunities for their child to maintain their mother tongue.

Provide resources and support for all areas of language learning both at school and at home.

Monitor their child's progress and communicate concerns initially through the classroom teacher.
Administration will
Ensure all parents have access to the Aoba policy and practices

Provide adequate resources and staffing for the school's language programmes.

Ensure consistency across all sections of the school in the delivery of language instruction, assessment and reporting.

Instigate a regular review of the language policy.

Ensure that teachers are supported with professional development opportunities to keep abreast of current practices in the teaching of English as an additional language.
This policy was completed in 2020 with input and review from the Aoba community. This document is available on the school website, staff handbook and student parent handbook. The next review will take place during the school year 2020-2021 or sooner if the language needs of the school change significantly.
References:
Primary Years, Middle Years and Diploma programme: Guidelines For Developing a School Language Policy. IB Language Policy
ASSESSMENT POLICY
Aoba Assessment Policy 
Assessment is integral to all teaching and learning. All IB schools are expected to develop assessment procedures and methods of reporting that reflect the philosophy and objectives of the programme. 
The purpose of this document is to present: 
our school philosophy on assessment, evaluation and reporting 

a common definition for the terms assessment, evaluation and reporting 

guidelines and procedures for assessment, evaluation and reporting 
This document is based on current educational research, best practice and assessment principles as outlined by the International Baccalaureate organization. This document provides Aoba with models of effective assessment and reporting practices. In addition it fulfills the standards, principles and practices prescribed by the International Baccalaureate (IB). This document is binding to all members of Aoba faculty and administration 
Principles of Assessment at Aoba 
The key principles of the IB assessment, which apply to all programmes (PYP, MYP and DP, GLD) are outlined below and form the principles of assessment at Aoba. 
Assessment is integral to planning, teaching and learning. 

The assessment system and assessment practices are made clear to students and parents. 

There is a balance between formative and summative assessment. 

Opportunities for peer and self-assessment are planned for. 

Opportunities for students to reflect on their own learning are planned for. 

Students' current knowledge and experience are assessed before embarking on new learning. 

Students are provided with feedback as a basis for future learning. 

Reporting to parents is meaningful. 

Assessment data is analysed to provide information about the teaching and learning, and the  needs of individual students. 

Assessment is used to evaluate the effectiveness of the curriculum. 
Assessment at Aoba
Assessment is the measurement of what students know and can do. How and when we evaluate students directly informs planning, teaching, and learning. Effective assessment places students at the center of their learning by allowing teachers to monitor student progress and adjust instruction to improve achievement. Teachers should provide a balanced variety of assessment tasks as well as conducting teacher-led assessments. Students should be involved in meaningful self and peer assessment, and should be aware of all assessment practices and expectations before embarking on evaluative tasks. Students are also expected to take ownership of their learning by being supported by the teacher in feedback sessions and self-reflection activities to support their own learning needs. 
Reporting to parents should be meaningful. Parents should be kept informed of student progress, the assessment and evaluation systems and their role in supporting student learning. Accurate assessment records and documentation are kept on each student to inform all stakeholders of student progress and to guide future academic goals. Assessment is managed through an active partnership among students, teachers, and parents/guardians. Clarity of expectations and good communication are shared responsibilities. The assessment component in our school's curriculum is subdivided into three closely related areas. 
Assessing – how do we discover what the students know and have learned. 
Recording – how we choose to collect, store and analyze data 
Reporting – how we choose to communicate levels of performance and progress 
Summative and Formative Assessment 
Aligned with both current research into best practices and IB's own guidelines, teachers use a range of formative and summative tasks. 1 
1 Descriptions of research-based best practices may be found in Marzano, R., What Works in Schools: Translating Research into Action (2003) and Wiggins, G. and McTighe, J., Understanding by Design (2004). 
IB guidelines are described in IBO, The Middle Years Programme: From Principles into Practice (2009); IBO, The Diploma Programme: From Principles into Practice (2009); and IBO, Diploma Programme Assessment: Principles and Practice (2004) and Making the PYP Happen: A curriculum framework for International Education (2009)
Formative Assessment
Formative assessment represents the process of gathering, analyzing, interpreting and using evidence to improve student learning. It is integrated into the curriculum and woven into the daily learning process and is an integral part of instruction. It provides teachers and students with information about how learning is progressing. It helps the teacher to plan the next stage of learning. Formative assessments occur continuously and include structured and spur-of-the-moment observations that are recorded and filed; formal and informal interviews; collections of work samples; use of extended projects, performances, and exhibitions; performance exams; various forms of short-answer testing, etc. This evidence of learning can be kept in grade books, files or portfolios, which in turn can be used by students and teachers to reflect on, summarize, and evaluate student progress.
Formative assessment promotes deep understanding of knowledge and skills by careful consideration of the types of assignment given. Students are involved in the formative assessment of their own learning and that of their peers through feedback forms and formal and informal conferences and discussions. Peer assessment requires a very safe and collaborative learning environment and should only be attempted sparingly and after a period of training and discussion with the class. 
Formative assessment involves providing students with descriptive feedback as they learn. This provides students with an understanding of what they are doing well, links to classroom learning, and gives specific input on how to reach the next step in the learning progression. Teachers will provide students frequent and descriptive feedback on formative tasks that aims to improve performance. 
The feedback given should provide incentives for improvement and should be positive in tone, providing encouragement, positive feedback as well as constructive critique. It is expected that prior to summative assessments being conducted teachers conduct formative assessment at least once for each criteria that will be summatively assessed and that this be documented in the unit planners as applicable, depending upon programme requirements. 
Generally this feedback will not include a grade, though occasionally a level or mark will be given as a diagnostic tool and as an incentive for improvement. Formative assessments usually do not support the determination of a grade level, though they may in situations when summative assessment data is lacking. It is far more important that formative assessment correctly identifies the knowledge, skills and understanding that students should develop. 
Summative Assessment
Summative assessment occurs at appropriate times during a teaching and learning cycle when students are given the opportunity to demonstrate what they know and can do by applying their knowledge in new and authentic contexts. Summative assessments are a means to gauge, at a particular point in time, student learning relative to the pre-defined criteria communicated to students prior to and during formative assessment. Although the information gleaned from this type of assessment is important, it can only help in evaluating certain aspects of the learning process. 
The timing, type, scope and format of each summative task should be clearly communicated to the students ahead of time, and rubrics, examples and practice assessments should be distributed and discussed in advance. MYP and DP programmes use the IB Grading Scale of 1 to 7, and follow the procedures outlined in the respective guides, such as "From Principles to Practice."
Standardized Achievement Tests
At Aoba we participate in standardized tests on an annual basis. The purpose of the testing is to inform curriculum, support and guide teaching and learning, provide data on individual students and to assess the school's standing in line with other like-schools. Testing is conducted in Grades 3 – 9 in February of each academic year. 
Academic Honesty
In order for learning to be valid, students must engage in their studies honestly. When a student cheats or in any way compromises the integrity of the educational process, he demeans himself, debases the efforts of his peers, and degrades the value of the International Baccalaureate program. The IB has clear guidelines that outlines the procedures for academic dishonesty. 2 The school has an Academic Integrity Policy that provides explicit guidelines for the DP programme. (Refer to DP Handbook).
Conferencing and Reporting
Reporting on assessment at Aoba includes communicating what students know, understand and can do. It describes the progress of the students' learning, identifies areas for growth, and contributes to the efficacy of the programme. Reporting to parents, students and teachers occurs through conferences, portfolios and reports. 
Assessment without feedback is merely judgment; feedback is the component of assessment that lets us interpret the judgment and improve our work. Reporting is perhaps the most public aspect of a school's assessment policy, and as such needs careful consideration in order to provide clear information that is useful to students and parents. Reporting may take many forms including conferences and written reports. Effective reporting must: 
involve parents, students and teachers as partners 

reflect what the school community values 

be comprehensive, honest, fair and credible 

be clear and understandable to all parties 

reflect results as assessed against the programme criteria 

allow teachers to incorporate what they learn during the reporting process into their future teaching and assessment practice. 
Conferences
The purpose of conferences is to share information between teachers, students and parents. P 52 Making the PYP happen: A curriculum framework for international primary education (2009). At Aoba we encourage a variety of conferences throughout the year 
Three way conferences (once a year)

Student led conferences (PYP: once a year)

Parent teacher conferences (as required by the teacher or the parent) 
Three-way Conferences
Three-way conferences involve the student, parents and teacher. Students discuss their learning and understanding with their parents and teacher, who are responsible for supporting the student through this process. Students are responsible for reflecting upon work samples they have chosen to share, that have been previously selected with guidance and support from the teacher and could be from the student's portfolio. The student, parents and the teacher collaborate to establish and identify the student's strengths and areas for improvement. This may lead to the setting of new goals, with all determining how they can support the achievement of the goals. The teacher is an integral part of the process and takes notes of the discussion. These notes may then be used in the written report. All of the participants must understand the format and their roles prior to the conference. 
Student-led Conferences
Student-led conferences involve the student and the parent. The students are responsible for leading the conference, and also take responsibility for their learning by sharing the process with their parents. It may involve students demonstrating their understanding through a variety of different learning situations. There may be several conferences taking place simultaneously. The conference will involve the students discussing and reflecting upon samples of work that they have previously chosen to share with their parents. These samples will come from the student's portfolio. 
The Written Report
The written report is a formal document that outlines the student's progress and is another means of giving feedback to students, parents and others about the student's progress based on assessment and evaluation information. 
Portfolios as an Assessment Tool
Schools have a responsibility to show evidence of student learning. As an example, portfolios are one method of collecting and storing information that can be used to document and assess student progress and achievement.
A portfolio is a record of students' involvement in learning which is designed to demonstrate success, growth, higher-order thinking, creativity, assessment strategies and reflection. A portfolio is a celebration of an active mind at work. It provides a picture of each student's progress and development over a period of time both as individual and group learners. It enables students to reflect with teachers, parents and peers in order to identify their strengths and growth as well as areas for improvement, and then to set individual goals and establish teaching and learning plans. 
Evidence of learning in a portfolio should be from a range of experiences and curriculum areas. The portfolio is used to show the development of knowledge, conceptual understanding, transdisciplinary skills, attitudes and the attributes of the learner profile over a period of time. It may also be used to document student action. Portfolio entries should document both the process of learning and the product, including images and evidence of students in the process of constructing meaning. It can be used as a tool for assessment and reporting purposes for students, parents, teachers and administrators.
Assessment for EAL Students
Aoba students have a variety of levels of language competency and are provided additional language support dependent on their English literacy level to ensure access to the curriculum. Assessment for EAL students follows IB guidelines. 
Continuum between the Programmes
Because of the differences in the IB programmes there is an assessment continuum ranging from almost entirely internal assessments in the Primary Years Programme to final external assessments in the Diploma Programme. Assessment at Aoba is clearly defined and transparent; all efforts are made to ensure a smooth transition between programmes and assessment procedures. MYP-specific guidelines are provided in a codicil to this document, "MYP Assessment & Reporting." 
Adopted: October 2014 Reviewed: 2020
DISCIPLINE POLICY
Aoba Conduct Policy     Updated August 2020; originally adopted August 2014.
Introduction
A spirit of community shapes the Aoba experience. We are dedicated to developing global-minded, compassionate, collaborative students inspired to learn so they can lead positive change in the world. In doing so we foster five core values in students during their time with us: Global Leadership, Entrepreneurship and Innovation, Effective Communication, Wise Risk Taking, and Effective Problem Solving. We also value and promote the IB learner profile attributes as they align with our core values and mission statement. These are being: Principled, Open Minded, Caring, Risk-takers, Balanced, Reflective, Communicators, Inquirers, Knowledgeable, and Thinkers.
Objective
The purpose of this guide is to give students, parents, teachers, and staff an overview of our objective to develop and support positive behaviours, self-discipline, and respect among all members of our school community. It also makes clear the roles we all play in maintaining a safe, respectful, and caring environment for all. 
Restorative Approaches 
We primarily adopt a restorative approach to support our students to learn from their mis-behaviours. 
… whole-school restorative approaches build healthy school climates by creating space for people to understand one another and develop relationships; when things go wrong, restorative approaches create space to address needs, repair relationships, and heal. Restorative practices provide meaningful opportunities for social engagement that foster empathy and mutual responsibility for the well-being of individuals and the community. Proactive practices intentionally build trust and understanding within the community to ensure a healthy supportive climate and environment. When things go wrong, restorative practices engage those affected and create space so that individuals and communities can effectively identify, understand, and address harms and needs—this facilitates healing.
Kidde, J. (2017) Whole-School Restorative Approach Resource Guide: An orientation to a whole-school restorative approach and guide toward more in-depth resources and current research. Agency of Education, Vermont, USA.
Strategies to Meet Positive Behaviour Objectives:
To achieve positive behaviours students, parents, teachers, and staff are expected to: 
ensure that behavioural expectations and agreements are clear

be effective role models and implement the learner profiles within our own behaviour 

have a consistent approach to the adherence to and implementation of the behaviour policy 

intervene effectively in misbehaviour when it occurs 

handle behavioural incidents compassionately

lead and participate in regular discussions about behaviour at home, during homeroom classes, and lessons

foster collaboration between the school, students, and parents in developing lifelong learners

report behavioural issues and concerns to the relevant personnel so that they can be recorded through our communication platform
Shared Discipline Routine: Minor Misbehaviour and Disruptions
Minor disruptions are dealt with by teachers within the context of the class. If moderately disruptive or disrespectful behaviours occur we follow a four-level approach:
First instance:

Discuss this issue, making the reason, and possible consequences for continued negative behaviour clear. 

Inform the Grade Core Team members to discuss during the weekly team meeting. 

Second instance:

Give a second warning making the reason clear and reiterating while applying initial consequences for continued negative behaviour.

Report this to the Core Team and record the incident in the communication platform (currently Engage daybook), stating in writing that this is the second instance of this behaviour.

Third instance:

Report the incident to the Core Team and set up a student-teacher conference with the reporting teacher, a member(s) of the core team, and the student(s). The purpose of this meeting is to discuss the issue and set a formal behaviour management plan.

Record the incident & plan in the Engage daybook and notify all relevant teachers and parents.

Fourth instance:

Report the incident to the Core Team. The Core Team is to then notify leadership and set up a parent-teacher conference with parent(s), a member(s) of the core team, the student, and a member of the leadership team in order to review the initial behaviour management plan and make amendments.
Shared Discipline Routine: Severe Misbehaviours and Disruptions
Serve misbehaviours and disruptions are dealt with by teachers within the context of the school community.  The difference between 'moderately' and 'severely' misbehaviour and disruption are understood in terms of social norms and specific expectations shared by the school community. The level of severity is a matter of professional judgement on the part of the teacher, the Core Team members, and/or the Pedagogical Leadership Team. 
When dealing with a serious issue such as reported self-harm and illegal activities teachers are expected to respond based on the steps outlined below:
The adults in the school notify the school leadership member immediately.

The leadership then informs the Head of School and an internal investigation is conducted. 

The investigation findings are analysed.

Based on the analysis of the findings a decision* is made by the Head of School or Principal.  

Parents are informed and a meeting is convened to share the findings a decision with the parent. 
*Depending on the nature of the incident parents may be involved in the decision-making stage. 
Consequences for severe Misbehaviours and Disruptions: Stand-Down
A stand-down is when a student is removed from the school for a period of fewer than five (5) days. The Head of School or Principal has the authority to do this. Stand-downs provide the opportunity for the school, student and their families to look at the problem and work together to try and stop the behaviour from happening again. A student will not be stood down simply because they have broken a school rule or misbehaved. 
A stand-down can be used for:
continual disobedience (regularly or deliberately disregarding rules or refusing to do as they are told) which is harmful or dangerous to other students and/or members of the school community.

gross misconduct (serious misbehaviour) which is harmful or dangerous to other students and/or members of the school community.

any situation where the student needs to be temporarily removed from school for the student's own safety or the safety of others while deliberations or an investigation is proceeding.
When a stand-down has been implemented, the Principal will contact the parents to inform them, and then send a formal letter/email regarding the stand-down. Parents can ask to meet the principal, or the Principal may ask to meet with parents. The student can be at the meeting and families may bring a support person, too. The stand-down takes effect the day after the principal's decision is made. In some cases the school will send the student home straight away, however the stand-down officially begins the next day. The student will be able to return to school on the date given in the Principal's letter, but the student may also be required to go to school for guidance and counselling during the stand-down period. The stand-down period can be lifted, shortened or withdrawn by the Principal before it expires.
Consequences for severe Misbehaviours and Disruptions: Suspension
A suspension is the formal removal of a student from school by the Head of School or Principal for a period exceeding five (5) days. The suspension process allows time for an investigation or deliberation that can lead to the cancellation of enrollment. It may be that the head of School will decide to lift the suspension with or without some conditions or extend the suspension with some conditions. As with a stand-down, the Principal must determine whether a suspension is warranted on any of these grounds:
continual disobedience (regularly or deliberately disregarding rules or refusing to do as they are told) which is harmful or dangerous to other students

gross misconduct (serious misbehaviour) which is harmful or dangerous to other students and/or members of the school community.

behaviour that risks serious harm if the student is not suspended.
The principal may consider what information parents and/or carers can give, but there is no requirement to involve parents and/or carers before a suspension. The Head of School or Principal will immediately inform parents that they have decided to suspend the student and the reason for doing this. Parent will also receive a formal letter/email regarding the suspension, information about the suspension meeting and options on how to attend the suspension meeting. At the meeting, the Head of School or Principal may:
lift the suspension without conditions.

lift suspension with conditions–the student may return to school full-time but must comply with conditions that are ongoing and reasonable.

extend the suspension–the student may not attend school and must comply with conditions that are reasonable.

cancel the student's enrollment.
Consequences for severe Misbehaviours and Disruptions: Cancellation of Enrollment 
The Head of School has the authority to cancel a student enrollment if the student can not meet the expected student behaviour conditions. The decision to cancel student's  enrollment is based on: 
the findings of the school investigation into the student's behaviour.

a lack of compliance by the student to meet the school's behaviour expectations.

unsatisfactory progress by the student to meet the conditions set out by the school.
If a student has their enrollment cancelled the family does not receive a refund for the outstanding time remaining during the semester in which the cancellation occurred.
Right to Appeal
As student and/or family have the right to appeal to the Aoba Board regarding the cancellation of enrollment. Written application to appeal is to be forwarded to the Aoba Board Chair.
INSURANCE POLICY
Aoba provides medical coverage for all students for injuries or accidents during curricular, co-curricular or extracurricular activities on campus, off-campus locally and off-campus abroad. This insurance also covers food poisoning.  Non-students, parents and visitors who participate in any Aoba event are covered for injuries on campus.
SHARING POLICY / USE of PHOTOGRAPHIC IMAGE and CONTENT
Aoba is committed to the security and privacy of our school community, including students, faculty, staff, and parents. Students photographs, images, quotations, and work products may be used in accordance with the Aoba Sharing policy. Aoba cannot be held responsible for unauthorized sharing of digital data by a member of the Aoba community.
Regarding the use images and content, I understand and accept that: 
Aoba will take photographic and video footage of the Aoba community for the purpose of informative and promotional materials of the learning, events, and activities of Aoba, including pamphlets, websites, reference materials, year books and the like. The intended audience will be for current and prospective students, alumni, parents/guardians, and the like. Student work may be reproduced for this same purpose; sometimes modified, translated or otherwise changed to meet the Aoba purpose. Full names and other information will not be used, to minimize the possibility of revealing the identity of the person. 

As an IB World School, Aoba is required at times to submit student work and images to the IBO (International Baccalaureate Organization). The IBO will have a non-exclusive worldwide license to use student work that has been submitted to them by Aoba. These materials may be modified, translated or otherwise changed to meet the IBO's purposes and names will be removed along with information that may lead to the identification of the child or of Aoba. Photographic and video images, taken in the course of approved Aoba activities and in circumstances under the control of Aoba, may also be reproduced by the IBO with an understanding that the identity of the person will not be revealed. 
Sharing Guidelines:
The below Sharing Guidelines are designed to set expectations for online contributions in accordance with Aoba values. The below guidelines have been created to balance participation with privacy, contribution with caution, and action with accountability. This policy applies to all members of the Aoba community – faculty, students, staff, parents and alumni.
All community members are expected to understand and adhere to the following guidelines regarding the sharing of content:
Only share such content when there is a reasonable assumption that the content owner or subjects would approve.

Provide proper attribution to the original content owner or creator when sharing the work of others.

Not require creation of accounts on sites with age restrictions by students who are underage, asking parents to create the accounts instead.

Enable content owners or subjects who are personally identifiable in the content to request the removal of shared content from publicly shared locations and have said content removed whenever possible and within reason.

Not reshare content beyond the audience intended by the original sharer.

Respect copyright in using materials in any context.

Respect user choice about account creation for sites or tools other than those that are part of official Aoba digital resources.

Not share information or promote content that is confidential or damaging to the school, its operations, or to other community members.

Notify leadership if content posted online raises concerns about student welfare.
FINANCIAL POLICY
As the parent/guardian of an enrolled Aoba student, I understand that:
By making, or authorizing, a full or partial payment of Aoba Registration, Tuition and other fees, I give my consent to all Aoba Payment & Refund Regulations.
It is my duty to ensure that my financial obligations to the school are discharged promptly (even if I am sponsored by our employer). 
Late payment of fees will result in penalty interest and may result in the withholding of enrollment, reports, and annual transcripts.
Failure to respond to requests for settlement of late fees may result in a student's suspension.
PAYMENT and REFUND REGULATIONS
Payment Regulation
It is the family or guardian's duty to ensure the financial obligations to the school are discharged promptly, even in the case where their employer may be paying the fees on their behalf. Even though a student has been accepted by or is enrolled in Aoba, if financial obligations are not met by documented dates, the student's enrollment will be cancelled.
Tuition, EAL Support, Learning Support Fee
Tuition and Support Fees are payable by semesters. 
| | |
| --- | --- |
| One Payment Option | Due by 19 June 2021 (or payable at the time of registration for new students) |
| Two Payment Option | Due by 19 June 2021 and 13 November 2021 (or payable at the time of registration for new students)  |
Building Maintenance and Family Community Membership Fees
Building Maintenance Fees and Family Community Membership Fees are billed in full with the first tuition invoice and are not divided for mid-year entry. 
School Trip Fee
The School Trip Fee is a mandatory payment for all students to participate in compulsory school trips as part of the curriculum.
Enrollment after the School Year Commences
For students entering school after the Autumn Break or the Spring Break, tuition is calculated based on the school's four quarters. A student's attendance for any portion of a quarter requires payment of the entire quarter. Full payment of the Building Maintenance Fee and Family Community Membership Fee is also required, regardless of the length of attendance.
Re-entry
For re-entry of students who have left the school, the Building Development Fee will be billed in full and Registration Fee as follows:
| | |
| --- | --- |
| Re-entry in the same school year as withdrawal  | JPY 100,000 |
| Re-entry in the next school year after withdrawal  | JPY 150,000 |
| Re-entry in the second school year after withdrawal  | JPY 200,000 |
| Re-entry after two years have elapsed | Full Charge |
In the event of cancellation of re-entry, the fees will be refunded regarding Refund Policy.
Leave of Absence
Students may apply to take a leave of absence by submitting an official notification by 31 July for the 1st semester and by 8 January for the 2nd semester. Leave of Absence is applicable only by semesters. Upon the approval by the Principal,  50% of Tuition will be waived during the leave of absence.  Any other fees will not be billed for the term of the leave of absence. Building Maintenance and Family Community Membership Fees will not be refunded for Leave of Absence taken in the 2nd semester.
Delinquent Payment Policy
An arrears charge of 1.20% per month, compounded monthly, will be applied to all overdue accounts. In the case of serious financial delinquency, the school will prohibit class attendance and/or the release of report cards and transcripts.
*This regulation shall be governed by, and construed and interpreted under the laws of Japan. The lawsuits hereunder shall be exclusively brought in the Tokyo District Court of Japan.
Refund Policy
In the case of cancellation of enrollment, the Admissions Office will refund fees as follows, following receipt of the enrollment cancellation (for new students) or Notification of Withdrawal (for current students).
Application Fee, Registration Fee & Building Development Fee 
Non-refundable.
Building Maintenance Fee and Family Community Membership Fee
For the coming school year, enrolled students who withdraw by 31 July will receive a full refund. The enrollment cancellation (for new students) or Notification of Withdrawal (for current students) must be submitted. No refunds will be given to students who submit the notice after 31 July.
First Semester of Tuition & Support Fees
Enrolled students who withdraw by 31 July will receive a full refund of the first semester's tuition (remaining balance after deduction of administration fee for continuing students including those enrolled after April of the year), EAL Support and Learning Support Fee. The enrollment cancellation for new students or Notification of Withdrawal for current students must be submitted. No refunds will be given to students who submit the notice after 31 July. Attendance of 6 days or more, at any time in the semester, will constitute attendance for the full semester and will not be entitled to a refund.
Second Semester of Tuition & Support Fees
Enrolled students who withdraw by 8 January will receive a full refund of the second semester's tuition, EAL Support and Learning Support Fee. No refunds will be given to students who submit the notice after 8 January, nor to a student who attends 6 days or more of school. Attendance of 6 days or more, at any time in the semester, will constitute attendance for the full semester and will not be entitled to a refund.
Re-enrollment (Continuing Students Only)
A deposit of JPY 250,000 is required by the due date in order to reserve a place for the next school year. This deposit will be deducted from the Tuition Fee. Re-enrollment without payment of deposit by the due date will result in a JPY 150,000 Reinstatement Fee. The Reinstatement Fee is non-refundable. In the event of cancellation of re-enrollment, following administration fee will be deducted from the deposit for refund after Notification of Withdrawal is submitted.
| | | |
| --- | --- | --- |
| | Administration Fee | Deposit Refundable |
| Up to May 31 | 100,000 yen | 150,000 yen |
| Up to June 30 | 150,000 yen | 100,000 yen |
| Up to July 31 | 200,000 yen | 50,000 yen |
| On or after August 1 | | No Refund |
Graduation Fee
Students who withdraw before Mid-Winter Break in February will receive a full refund of the Graduation Fee by submitting a Notification of Withdrawal. No refunds will be given to students who withdraw after the last day of the first semester. 
School Lunch Fee, Bus Fee
Students who withdraw by 31 July will receive a full refund of the School Lunch Fee and Bus Fee. Students who withdraw by 8 January will receive a full refund of the second semester's School Lunch Fee and Bus Fee.
Other Fees
All other fees (Summer School, After School Program Fees and School Trip Fee) are non-refundable.
制服ポリシー
学校からの指示がない限り、制服は毎日着用してください。
取り扱い業者:
引き続きメインの制服取り扱い業者は Lands' End ​ と Top of the Class ​ になります。体育着も指定のものが光が丘キャンパスの全生徒に必要となり※、体育(PE)で必要な着衣は Top of the Class のみで購入が可能です。
※目黒キャンパスの生徒は体育着を購入する必要ありません。
注文方法:
Top of the Class​:  www.schooluniform.jp/how-to-order/
注文方法等についてのご質問は直接 Top of the Class にお問い合わせください。
Lands' End​:  www.landsend.com
School Number は 900160342 です。注文方法等についてのご質問は直接 Lands' End にお問い合わせください。
制服について:
学年別の制服の詳細はこの制服案内に記載されています。学校から特に指示がない限りは、それが当校指定 業者の商品であっても、代替品の着用はできません。制服案内にあるとおり、制服によってはスクールロゴ が付いていなくてはなりません。全ての制服には必ず名前を明記して下さい。どの学年においても、女子生徒はズボンを履いても構いません。
*中等部・高等部(G6−G12)の生徒においては、他のショートパンツ、ロングパンツ、スカートを履いても大丈夫です。シャツ、Tシャツは正式なアオバジャパン・インターナショナルスクールのでないと着用できません。遠足など、学校を代表するイベントの時のために、夏用と冬用の制服を最低1セットは購入してください。教育現場、または公共の場で学校を代表する者として適切な服装について、ご家族でお話しして頂けます様、お願いします。
サイズ:
Top of the Class ​ のサイズは年齢、または身長(cm)で決めます。ご不明な点については直接Top of the Class にお問い合わせください。日本語対応をしております。
Lands' End ​ では正確なサイズでお申し込みいただくためにサイズチャートを用意しています。また、ズボン、スカートはウェストのアジャスターゴムでサイズを調整できます。ズボンの長さは注文時に指定できます。ご不明な点については Lands' End にお問い合わせください。
夏服/冬服:
目安として、夏服は 5 月 1 日から 9 月 30 日まで着用します。冬服は 10 月 1 日から 4 月30 日まで着用します。
通学ポリシー
光が丘駅からの通学路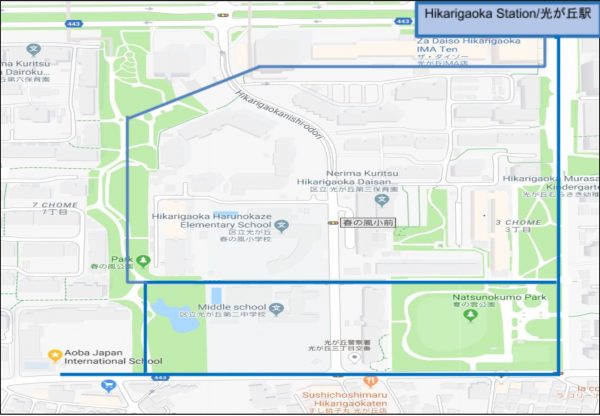 送り迎えなどで、学校にお越しになるご家族の方も必ず検温の上ご来校ください。保護者の校舎内への立ち入りは基本的にお断りしております。学校出入り口は8:20〜8:30 および3:30〜3:50に開きます。時間より早く到着しても校内には入れません。安全の観点から登下校時、生徒は必ず正門(バスゲート)を使用するようご指導をお願いいたします。保護者の方とご一緒の場合も正門をご利用いただけますようお願いいたします。
スクールバス
スクールバスに登録されている場合、学校初日からバスに乗ることができます。バス乗車の際にはバスアテンダントが検温をします。体温が37.4°C以上の場合乗車できません。バス乗車時は手の消毒をし、乗車中はマスクを着用してください。
*バス停から一人で帰宅できない生徒は、バスに乗車できない場合に備え保護者がバス乗車時まで付き添う必要があります。
公共交通機関やスクールバス以外の方法を使った登校について
車での登校
お車で登校される場合は、学校近くの駐車場や光が丘駅近くの駐車場をご利用いただき、徒歩で学校の敷地内にお入りください。学校正門の外に停めて、お子さんを降ろすことはしないでください。また、ファミリーマートやアコレ(学校向かい側)には駐車しないでください。
下記は近隣駐車場の一例となります。
光が丘駅前: http://www.ima-hikarigaoka.jp/access/
ホテルカデンツァ: https://h-cadenza.jp/access/
自転車での登校
生徒は各自の自転車での通学が可能です。ヘルメットと手袋の着用をお願いしています。お子さんの自転車が登録されていること、保険に入っていることをご確認ください。
自転車の登録フォームへのご記入をお願いしていますので学校事務までお問い合わせください。自転車通学の生徒は正門から出入りすることができます。
低学年のお子さんをお持ちの保護者の方は、お子さんを自転車に乗せて送り迎えすることができます。授業開始前と放課後に正門から入校することができます。
*2020年4月より東京都では、自転車利用者および保護者への自転車損害賠償保険等の加入が義務化されております。
やむを得ず遅刻する場合には必ずお知らせください。遅刻した生徒は受付で検温し、健康観察表に問題がなければレイトパスが配布されます。遅刻者がレイトパスを持たずに教室へ入室することはできません。
校舎内への保護者の立ち入りを制限させていただきます。登下校時は校舎ロビーのドアまでの立ち入りとなります。
特別な事情があり、校内への立ち入りが必要な場合は事前予約・登録が必要となります。reception@aobajapan.jpまでメールにてご連絡の上、返信の指示に従って下さい。
事前予約・登録のないご家族の校舎内への立ち入りはお断りさせていただきます。
受付にてお子さまの忘れ物などを受け取り・お預かりすることはできません。お子さまに忘れ物がないよう必ず確認させて下さい。ただし、ランチ、水筒、薬については、保健室にて直接お預かり致します。必ず事前にreception@aobajapan.jp までご連絡いただき、返信の指示に従ってください。