PYP Exhibition 2020 by Grade 5 students
29 May 2020
On Thursday, 28th May, we invited students, teachers and staff to virtually come together to showcase and celebrate the Grade 5 students' PYP Exhibition. The Exhibition is a 11-week process in which students apply their skills and knowledge from previous years within the Primary Years Programme, and this year, it was successfully carried out entirely online.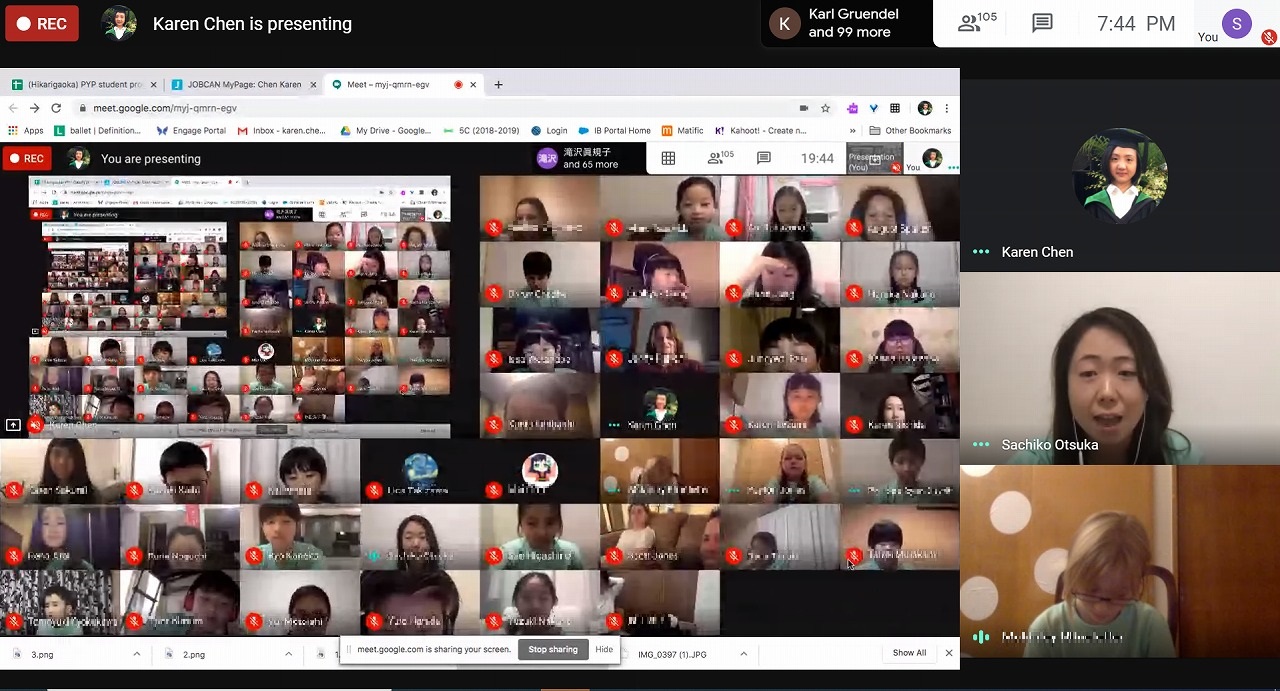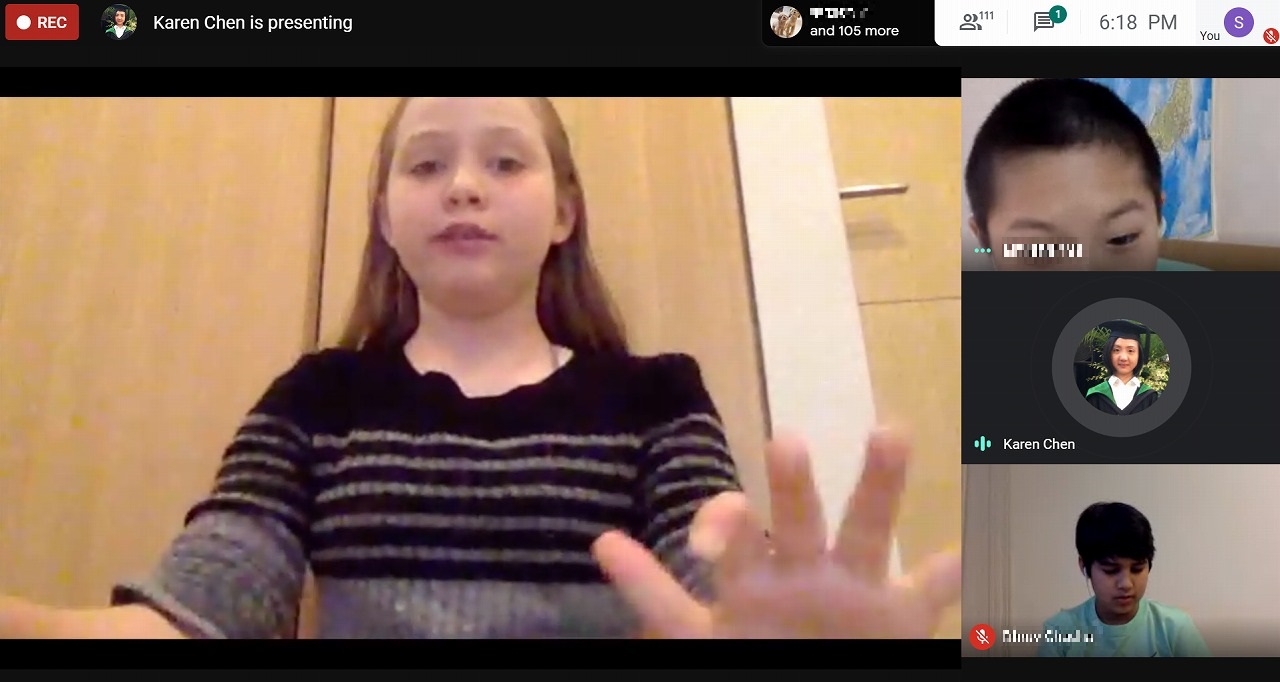 Students were involved in a self-initiated inquiry into a social or environmental issue of interest, and in small groups, they researched and decided on an action to take. There were 13 diverse issues, as shown below.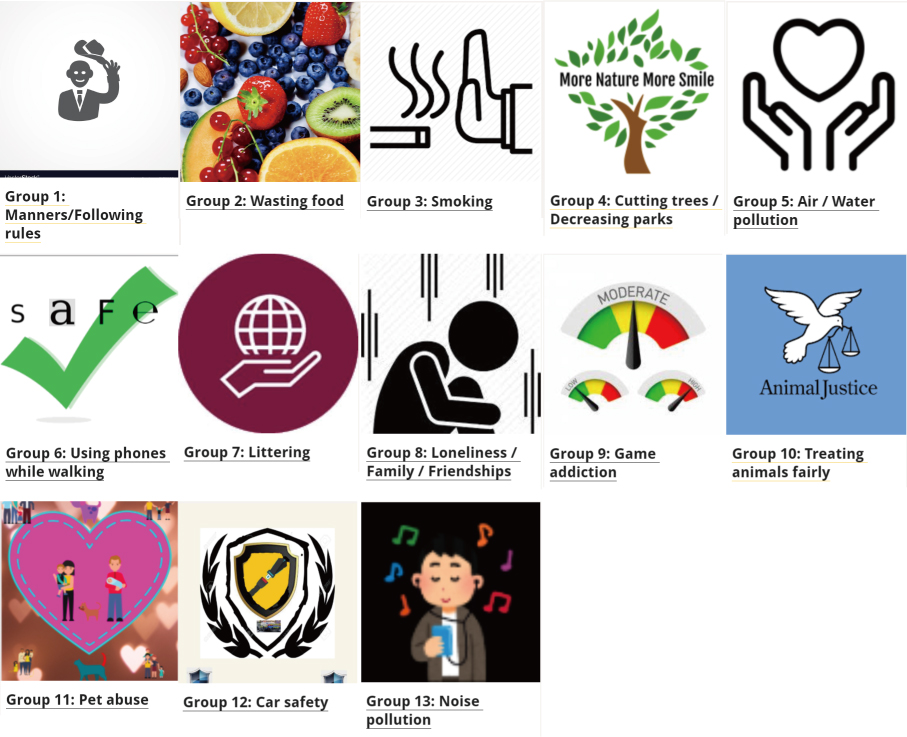 For the virtual exhibition, each group created their own website to display research results and their chosen action. Also, students made a virtual gallery space displaying the different works created by the students.

PYP Exhibition platform website :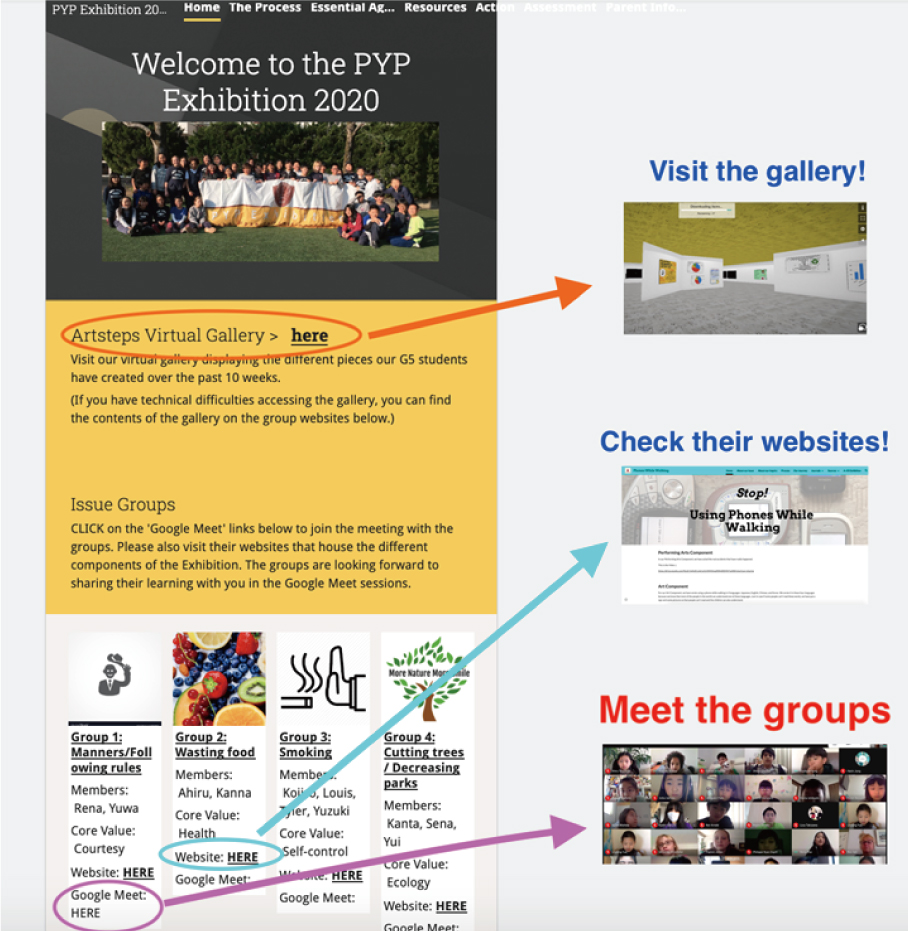 Each group presented their issue and invited visitors to engage through their interactive virtual space on Google Meet. Students presented their components in both English and Japanese through videos, posters, animations, stop motion, quizzes and so on. Some of the students also explained the effect that COVID-19 has on their issue.
Presentation by Group 2 : Food wasting

Presentation by Group 4 : Cutting trees / Decreasing parks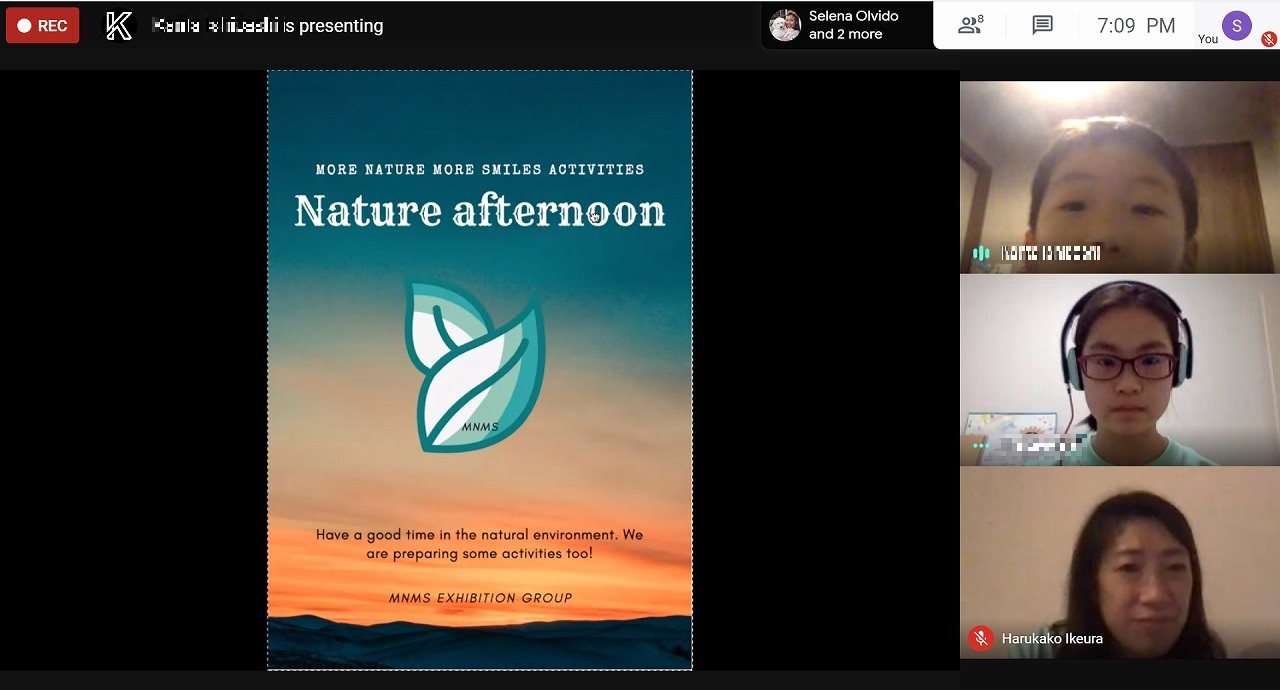 Presentation by Group 6 : Using phone while walking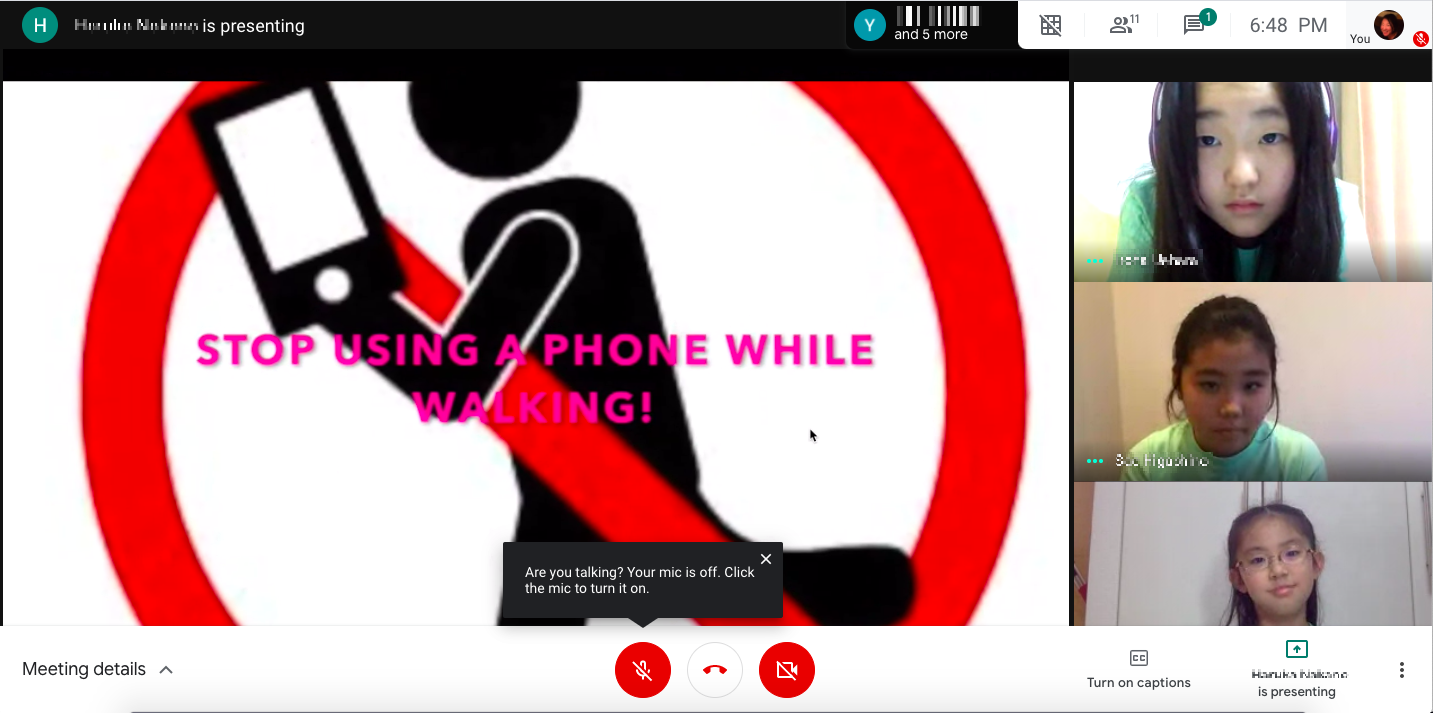 Presentation by Group 11 : Pet abuse

Presentation by Group 8 : Loneliness / Family / Friendships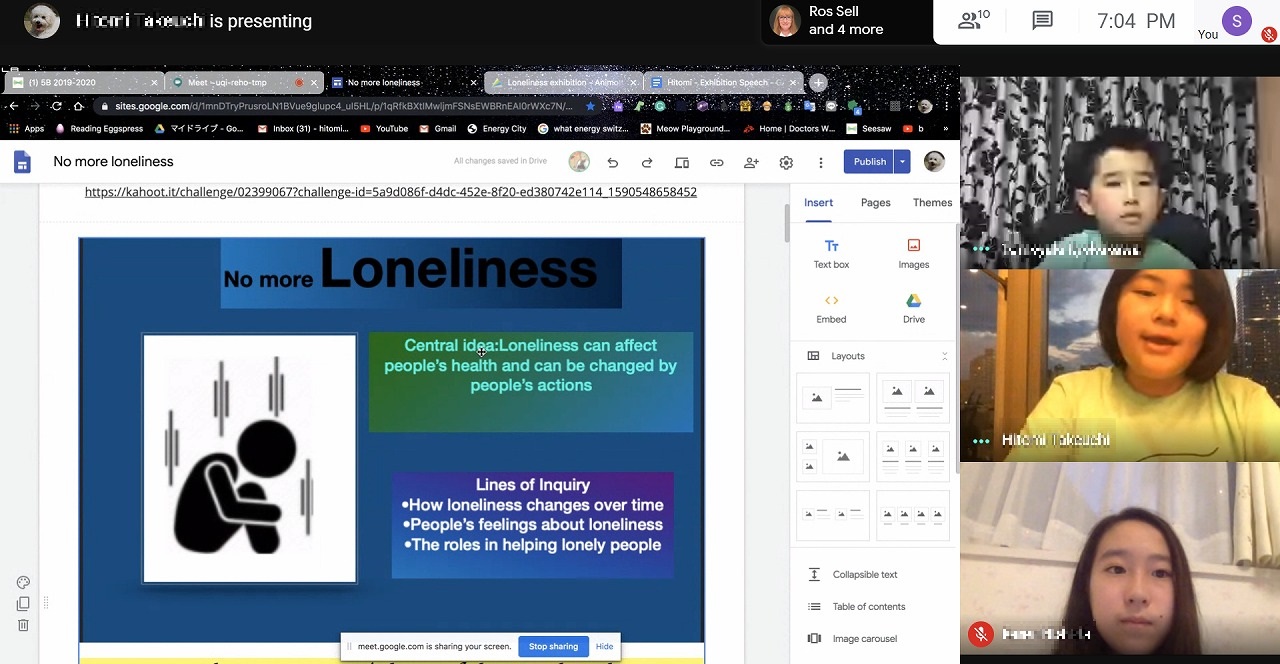 Presentation by Group 9 : Game addiction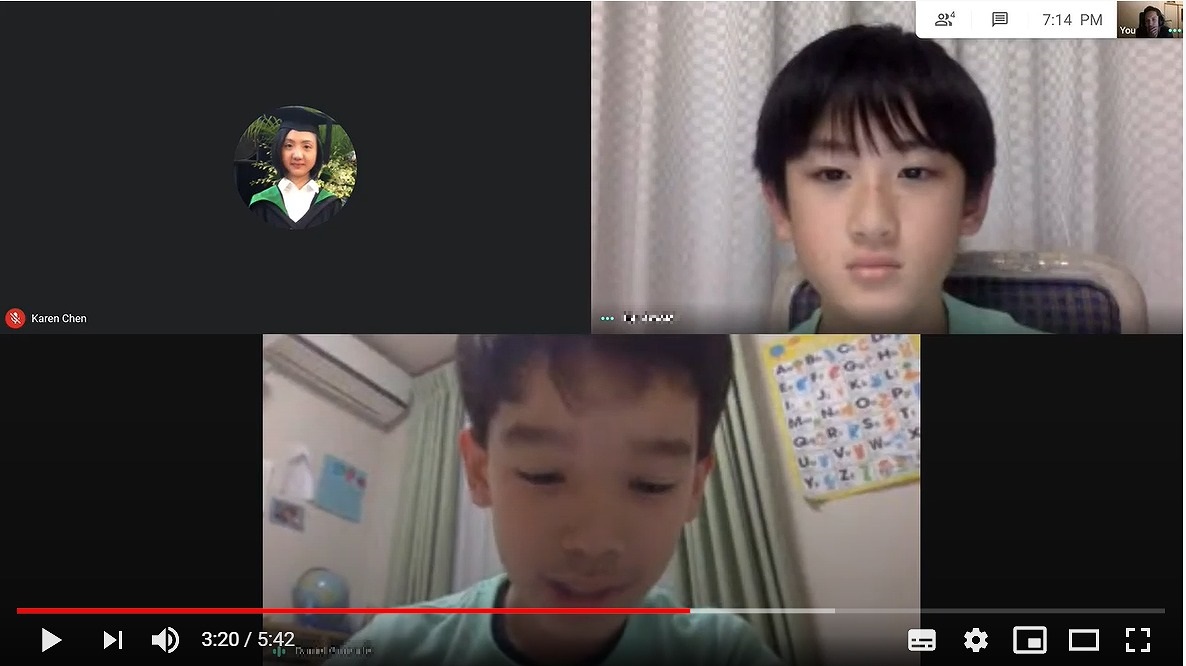 Access to watch the Group 9 presentation video >>>  https://youtu.be/7b4SYHi1o6w
Despite the challenges of it being entirely online, the outcome was exceptional. All visitors including Aoba's family community enjoyed and appreciated the hard work that the Grade 5 students put in to create and share their learnings.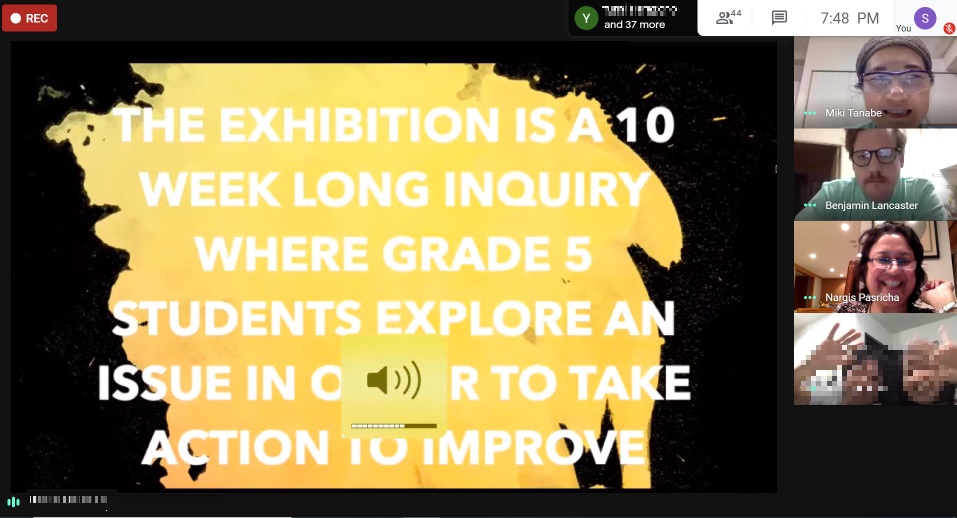 2020 PYP Exhibition Process Video : https://youtu.be/iYucPzUmLyc
The PYP Exhibition Songs : https://youtu.be/vCZODP33t-Y
<Message from PYP team and feedback from visitors>
Message from Ken Sell, Head of school
Once again the Exhibition continues to publicly show our strengths. 
It shows we are a school that values collegiality and collaboration. 
It shows the sophistication of thinking and expression of our students. 
It shows engagement with the broader community and partnerships with our families.
It shows how much we care about the children we teach. 
It shows our professionalism.
The exhibition represents 8 years of Aoba schooling  (K3 to Grade 5). Kindergarten lay the foundation, Grades 1 to 4  set the stage and with Grade 5 direct the final performance. 
While the Exhibition is the ultimate PYP summative assessment it is also a connecting bridge to MYP. The role of MYP is to maintain and extend the gains students have made throughout the PYP years. The Exhibition sets the baseline for MYP teachers to build on. This base consists of teamwork, critical thinking and inquiry, problem-solving and risk taking, entrepreneurship and innovation. The Exhibition is a tangible example of Global Leadership.  MYP teachers are very fortunate. They have a significant record of the capability and interests of each student entering Grade 6 next year. 
This year's Exhibition, like the Grade 12 Graduation, will be remembered because it was conducted completely online. Watching both events come together was like watching a documentary of the inner workings of the NASA Mission Control centre. 
My sincere thanks go out to Karen and Ros for the significant work they did to connect the children in this time of isolation, to Sachiko and Haru for your unwavering support and to the many mentor teachers who guided and supported each group. 
Well done once again. As a community, we should be very proud of our collective achievements. 
Message from PYP Principal, Sachiko Otsuka
What an awesome celebration of the students' learning! I am amazed at what they have achieved in the 10weeks- Their passion to lead change and make a difference; perseverance through the ups and downs; teamwork and finding solutions in a new context. 
Message from PYP coordinator, Haru Ikekura
CONGRATULATIONS to the Grade 5 team for a wonderful day of sharing!!
THANK YOU all so much for your support today! The G5 students were thrilled to have so many of our teachers and students join their groups for the Exhibition. They were all very proud of their work, as were we, and they were especially encouraged by all the positive engagement and feedback received. This year's G5 did not have it easy and they all had to work extremely hard to drive their group inquiry and conduct their research in the new context. The resilience and perseverance of the students and all the teachers and mentors involved have been a highlight of this journey
Comments from visitors : 
I am so impressed by all the G5 groups! They worked so hard, were so creative, and really came up with some wonderful ideas. I really enjoyed working with them on their projects, and they kept me busy with their many questions, mature insight, and observations. Fantastic job! 
Comments from G3 teacher : 
A big congrats to all of the grade five groups and their mentors!
Our grade threes were really impressed with what the grade fives were able to put together through online work and inquiry. What a great way to model successful learning and engagement for the younger kids! Excellent stuff!
Comments from Secondary principal : 
I stopped into the virtual art gallery which was pretty cool. Not everything loaded but enough pieces did to make it work; I visited several teams to listen to them and asked questions; they all seem to be handling the telemeetings very well.