Aoba graduate success, exceeding global IBDP average scores
12 October 2023
We are pleased to announce that  our Class of 2023 Aoba graduates exceeded the global average score.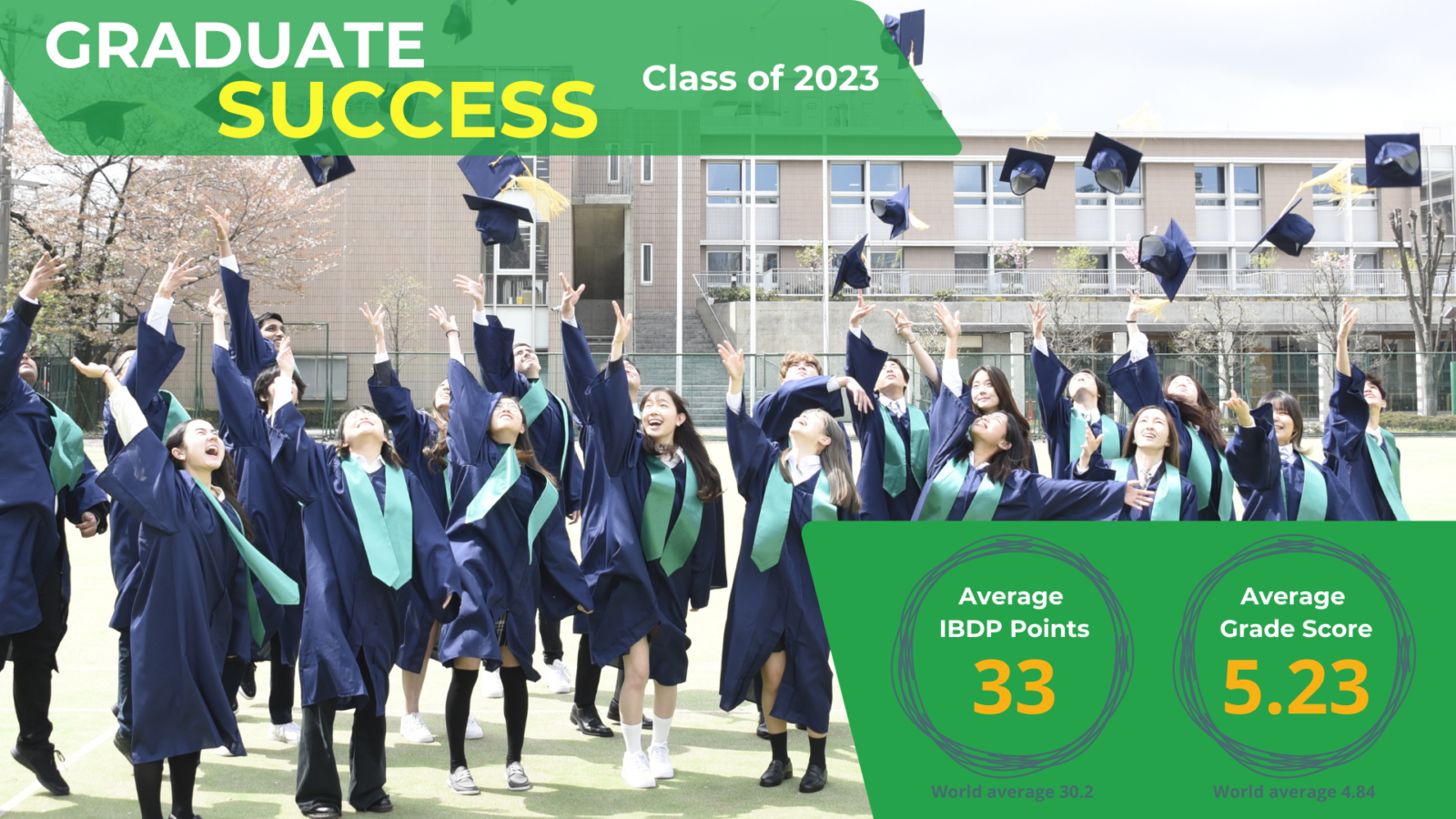 According to results released by the IBO pertaining to the May 2023 DP examination session, global  IB subject grade and IB DP examination scores have rebounded to pre-pandemic averages.
At Aoba, ten students were awarded the IB Diploma; seven of whom achieved the Bilingual Diploma (English A and Japanese A): an increase of two students over last year. Aoba's average IB DP score over the 2022-2023 academic year was 5.23 as compared with an IB DP global average score of 4.84. Aoba graduates also excelled in Theory of Knowledge (TOK) and Extended Essay (EE) subjects with 92% of students able to achieve 1 or more additional points from their respective core subjects. 
Aoba's year total IB DP score average across all DP students was 33 points, higher than the world average of 30.24, with one student achieving 40 points and 2 students achieving between 35 and 39 points.
Aoba students set clear goals based upon their personal passions and academic dispositions. Students are intrinsically motivated to achieve these goals because of their personal relevance. As a result, over the past years, the academic performance of Aoba graduates is excellent and, when combined with a uniquely international outlook and experiences cultivated during their time at Aoba, has contributed to our students ability to receive admissions offers from top universities around the world including UC Berkeley (ranked 8th globally*1), Imperial College London (ranked 10th globally), Tohoku University (ranked 1st in Japan), University of Tokyo (ranked 2nd in Japan) and many more.
These outstanding academic achievements and university acceptance results are evidence of Aoba's ability to meet the diverse needs of all students and provide high-quality personalised programs and post-secondary guidance tailored to each student's future plans.
In 2023 Aoba was selected by the IBO to participate in their IB DP Online Pilot, becoming the first school in Asia to offer a fully online IBDP program. As an IB World School offering a world-standard education from kindergarten through high school, Aoba will continue to contribute to the development of global leaders who can make a positive difference in the world, while providing an education that expands each student's future possibilities.
*1 Reference : THE (Times Higher Education) World University Rankings
Aoba Graduates' Successful Results:
https://www.japaninternationalschool.com/university-and-post-graduate-resources/
Press Release in Japanese :
【X】https://twitter.com/aobabbt/status/1698864808525979876?s=20
【Facebook】https://www.facebook.com/aobabbt/