Poland + Japan
26 November 2018
This year Aoba-Japan International School with the initiative of organizing the Performing Arts Summer Camp is one of the proud owners of the anniversary logo and therefore begins a new chapter of Polish and Japanese relations. This initial step is just the beginning of the process to set up a continuous Student Exchange Program with Wroclaw International School in Poland.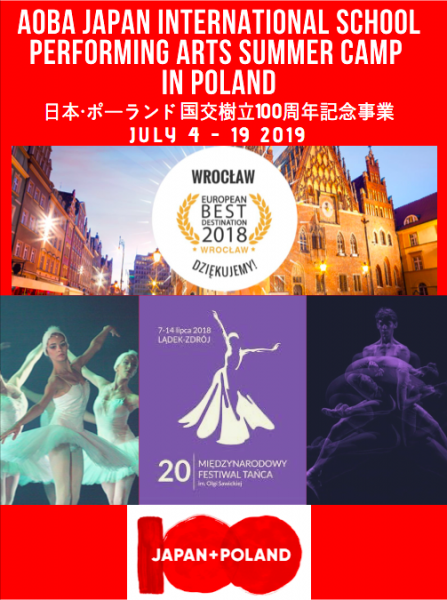 Poland has so much to offer with its historical, fairytale-like cities, vast nature, good food and welcoming people. Moreover, Japan with its culture is especially adored by Polish people, who are truly fascinated with the Country of the Rising Sun. Initiating this exchange is an excellent contribution to the idea of Internal Mindedness and will surely result in deepening relations between these two countries, proving that geographical distance is no obstacle to true friendship.
This initiative wouldn't be possible if not the idea and efforts of Joanna Tomaszewska, Aoba-Japan International School librarian and her foundation Hanami, which acts as an agent promoting Polish – Japanese cultural exchange. Joanna has a long history of fascination with Japanese arts and culture. During her stay in Poland, she was teaching Japanese students in Wroclaw International School and became friends with the Japanese families that stayed in her hometown Wroclaw due to Toyota expansion.
The history of Polish – Japanese friendship is a glorious one. In 2019 we will be celebrating the centennial anniversary of Polish – Japanese diplomatic relations. During these 100 years of friendship, we had wonderful episodes such as saving 763 children Polish children by the Japanese from exile in Siberia in 1920-1922. As a sign of gratitude, Poland invited Japanese children from territories affected by the earthquakes in 1995 and 2011. During 2019 – the anniversary year, we are opening a new episode in the history of our friendship. In the upcoming year in Poland and Japan, we'll be observing a multitude of collaborative events in the politics, economy, science, technology, culture, art, education and sports. Last July this the Japanese Minister of Foreign Affairs, Mr. Taro Kono visited Poland and together with his Polish equivalent Mr. Jacek Czaputowicz, they announced the official anniversary logo. This logo is using the colors of both countries flags: red and white and symbolizes the intention of further successful development of Polish-Japanese relations.