Affiliated Schools
Aoba Group Schools
Aoba group has five affiliated preschools for children aged one to five in Tokyo. Three bilingual preschools authorized by the International Baccalaureate (IB) and one international preschool has been awarded candidacy status for the IB. Since April 2018, a new affiliated bilingual preschool has opened.
Aoba-Japan Bilingual Preschools
Address: 2F, Harumi Triton Square, 1-8-2 Harumi, Chuo-ku, Tokyo
Tel: 03-6228-1811
Address: 2F, Hirano Building, 4-12-38 Shibaura, Minato-ku, Tokyo
Tel: 03-6809-5664
Address: Building No. 2, Chiyoda Building, 1-14-8 Takadanobaba, Shinjuku-ku, Tokyo
Tel: 03-6385-2818
Address: 4-15-41 Shimorenjaku, Mitaka,Tokyo
Tel: 0422-29-2877
Address: 2F Imasu Nakano Minamidai, Crystal Court 88, 3-6-17 Minamidai, Nakano-ku, Tokyo 164-0014
Tel: 03-6380-3218
Affiliated International Preschool
Summerhill Info Session
February 23rd (THU) 10:00
Accepting reservations now ( Spaces limited ).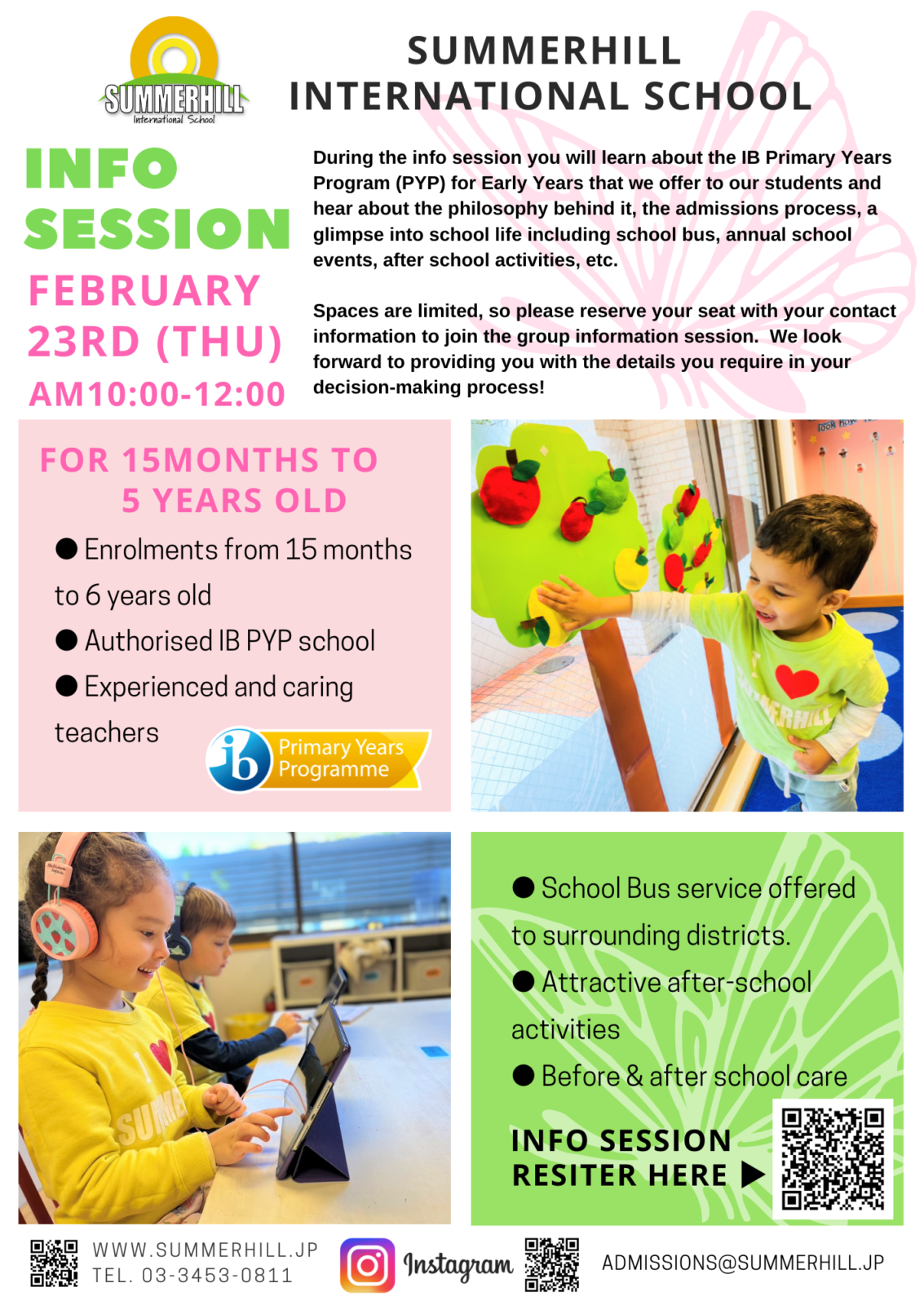 REGISTER HERE FOR THE INFO SESSION
We look forward to providing you with the details you require in your decision-making process!
If you would like to discover if Summerhill is right for your child, please call us at 03-3453-0811 or use our online contact form to make an appointment for a school tour.
Address: 2-13-8 Moto-Azabu, Minato-ku, Tokyo
Tel: 03-3453-0811