Message from Head of School
Ken Sell, Head of School
In today's world we are all presented with opportunities that were once hard to imagine. These opportunities, in the business and social domains of our society, are now associated with an unprecedented increase in the global flows of ideas, people, information, services, finance, communication and trade. The acceleration of social, intellectual and economic global activity has opened up a world of exciting prospects for our young people.
The extent of social and economic prosperity in today's world is shaped by the capacity and capabilities of the nation's people. What comes with this changing social, economic and cultural landscape is a significant obligation on us, as teachers and parents, to ensure today's generation has acquired the attributes, skills and knowledge to prosper and succeed in such a world.
At Aoba-Japan International School, we believe entrepreneurship embodies a social responsibility that supports the building of a prosperous and socially just society. In our way of thinking, social entrepreneurship involves learning from others; working in teams; belief in one's abilities and ideas; innovating through the generation and application of new ideas; self-motivation and determination; showing initiative in thinking and doing; developing detailed plans to achieve objectives; and using analytical abilities to make wise decisions.
Every decision we make is designed to achieve our aim of improving our children's capacities and capabilities to make positive change in the world. We asked ourselves: What values would guide us to achieve our aim? Does our curriculum support our learners to develop 21st century capacities and capabilities? Is our teaching approach enabling our learners to prosper and succeed? Does our school community collaborate effectively to provide a safe and thoughtful learning environment?
With these questions in mind, we have adopted five core values of Global Leadership; Entrepreneurship and Innovation; Effective Communication; Wise Risk Taking and Effective Problem Solving. Our internationally recognized curriculum (International Baccalaureate) uses an inquiry approach to learning that enables our children to gain deep conceptual understanding. This learning is supported by systematic teaching to develop literacy and numeracy skills that focus on building critical and creative thinking capacities. We provide coherent learning experiences from kindergarten to grade 12 with learners connecting and applying knowledge. To continuously improve teaching, we partner with local and international universities to have ready access to expertise and research in the field of teaching and learning.
The basis for our success is born from our passion and consideration for all our learners. We are determined and dedicated to the task of preparing them in readiness for our ever-changing world. Our philosophy is to educate the whole person.
A visit to any of our several campuses will provide testimony to our professional commitment as educators. You are welcome to discover our passion and care for developing our children into global leaders who make a positive change in the world.
The basis for our success is born from our passion and consideration for all our learners.
Ken Sell
Head of School
Profile
2014: Aoba-Japan International School: Head of School
2013: Shen Wai International School: Head of School
2010: Southern Cross University: Adjunct Professor
2009: Trondheim International School: Head of School
2008: Education Queensland International, Advisor
2004: Kawana Waters College, Director of Curriculum, Teaching & Learning
2000: Central Queensland University, Senior Lecturer
1999: EQ Australia Pedagogy Consultant.
1997: EQ Australia Behavior Consultant
1984: Queensland Department of Education (EQ, Australia): Teacher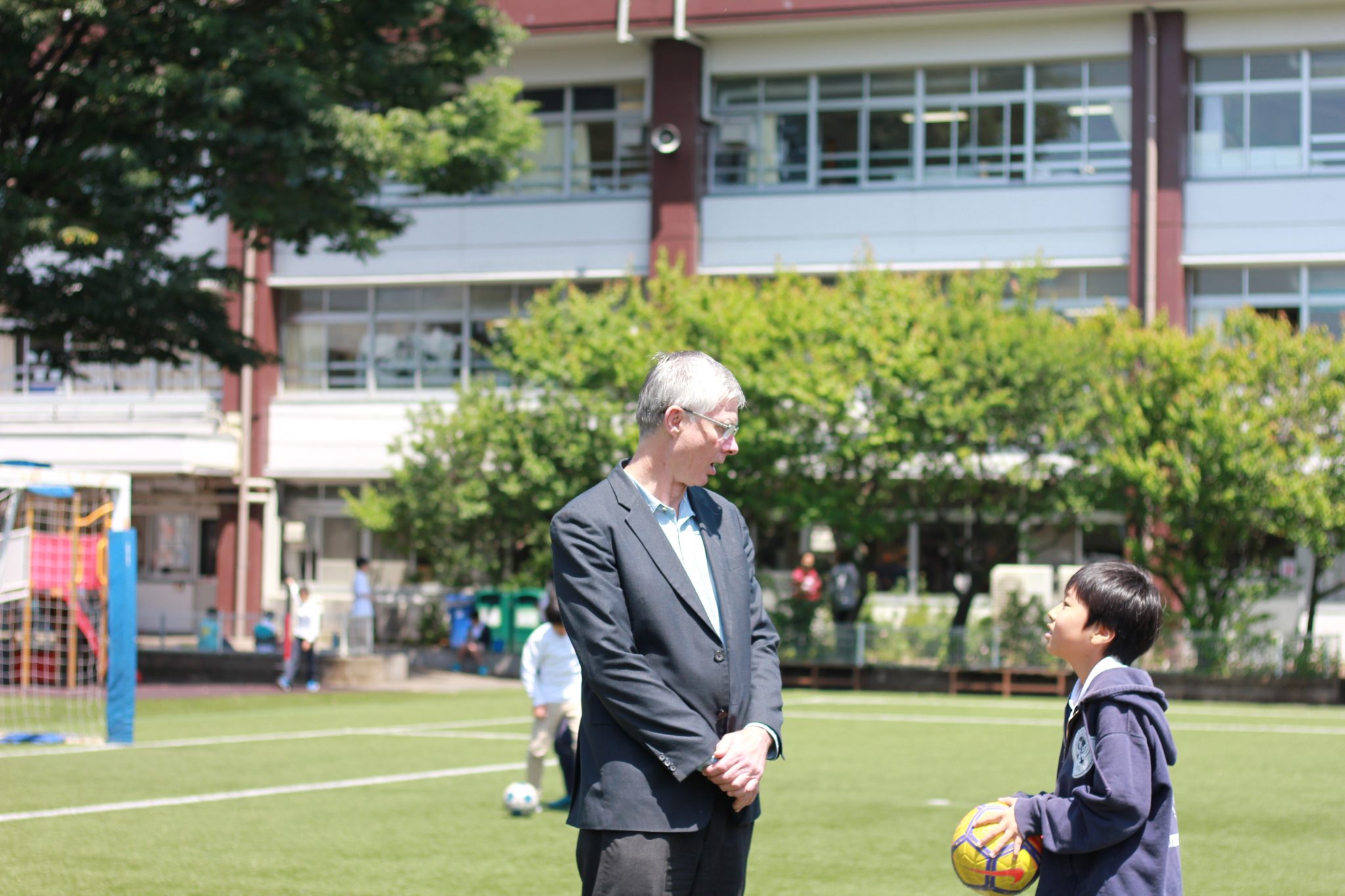 Strategic Goals
Aoba will become a leading school in Asia that develops global leaders. We will:
Offer the PYP, MYP, and DP International Baccalaureate Programmes.
Develop real-world learning experiences that are diverse, student-centered, relevant, engaging, and globally valued.
Integrate technology and innovation into learning.
Promote genuine and constructive partnerships with parents and the wider community to improve and enhance student learning and success.
Ensure that faculty, staff, and administration are equipped to deliver excellence in education.
Create formal partnerships and collaborative relationships; Aoba will pursue its mission by embracing a culture of exchange and cooperation with schools and organizations in Japan and around the world.
Aoba Strategic Plan 2021-2025
Education Objectives, Goals and Strategies: 
Learning Outcomes – Deliver exceptional learning outcomes for all students
Identity – Our organisational mission, vision, identity, and unique market position are clearly understood by all community members. 

Accreditation / Authorisation – Our academic programmes clearly meet standards for external / internal QA and recognition. 

Programme Development – Our educational programs achieve improved learning outcomes.
2. Professional Capacity – Support professional thinking, practice and collaboration to ensure  educational impact.
Staffing – We confidently and proactively attract, monitor and retain quality staff who manifest our identity. 

Embedded Blended Learning (EBL) – Build EBL professional capability in all teachers from K to 12. 

Blended Learning Resources – The school leverages the teachers' intellectual property to produce resource products for internal and external use.
3. Outreach – Deepen partnerships within and beyond the community.
Community Development – Our parent and community network clearly understand and actively support our strategic plan. 

Network Development – Our professional thought leadership network actively contributes to the A-JIS strategic plan. 
Business Objectives, Goals and Strategies: 
New Revenue – Develop relevant educational programmes, products and services that can be taken to market. 
Digital products and services – Develop new digital educational programmes resources and services in support of the Aoba strategic revenue objectives.
2. Efficiency – Generate value by leveraging connected and collective organisational assets.
Technical Infrastructure – Our technology infrastructure, resources and support are fit for purpose at all associated campuses, programmes and services. 

Business Administration – Our business administrative structures are fit for purpose to scale for organisational growth, consistency and efficiency, where appropriate.
3. Growth – Ensure support for future projects and organisation expansion through school growth and enrolment growth.
Branding / Marketing – Our brand and marketing are updated to effectively and consistently reflect our identity. 

Renovation / Expansion of Existing Schools – Our campuses are renovated / extended to raise our brand profile and increase enrolment. 

New Schools / Programmes – New schools and programmes increase revenue.
4.  Accountability – Ensure that operations are sustainable and run effectively
Strategic Planning – Our strategic planning and project management systems empower teams to set and achieve organisational goals in ways that are purposeful, collaborative and productive. 

Budget Planning – Our budget planning and management empowers leadership teams for optimal financial accountability.