Japanese Speech Contest on 22nd JUNE
17 May 2019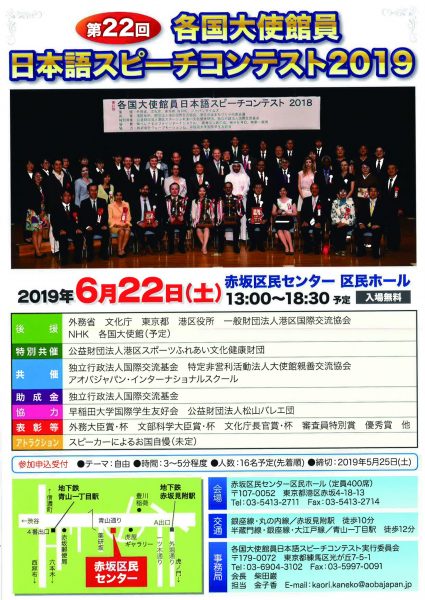 *******************************************************************************************
"Japanese Speech Contest 2019 for Foreign Diplomats"
Date : June 22nd
Time : 13:00~18:30
Place : Akasaka Kumin center, city hall
<ADMISSION FREE>
This event, now in its 22nd year is designed to promote closer friendly communication
between foreign diplomats and citizens in Japan.
It is supported by the Japanese Ministry of Foreign Affairs and Ministry of Monkasho
 (Education, Culture, Sports, and Technology), NHK etc, and has been organized with
the help of a number of volunteers and Aoba has become the host from this year.
Although it is officially a speech contest, it will be less a competition than a friendly
social opportunity to get together and share experience in Japan.
*******************************************************************************************
CONTACT :
Organizing Committee for the Japanese Speech Contest 2019
Phone:070-3529-4069