Aoba hosts the Japanese Speech Contest For Foreign Diplomats 2021!
8 November 2021
The 24th Japanese Speech Contest for Foreign Diplomats 2021 was held on November 3, 2021.
Thank you to all the contestants from various Embassies.  The contest was a huge success.  Each contestant presented their speeches in Japanese, and awards were given to 5 contestants.  Thank you, and congratulations!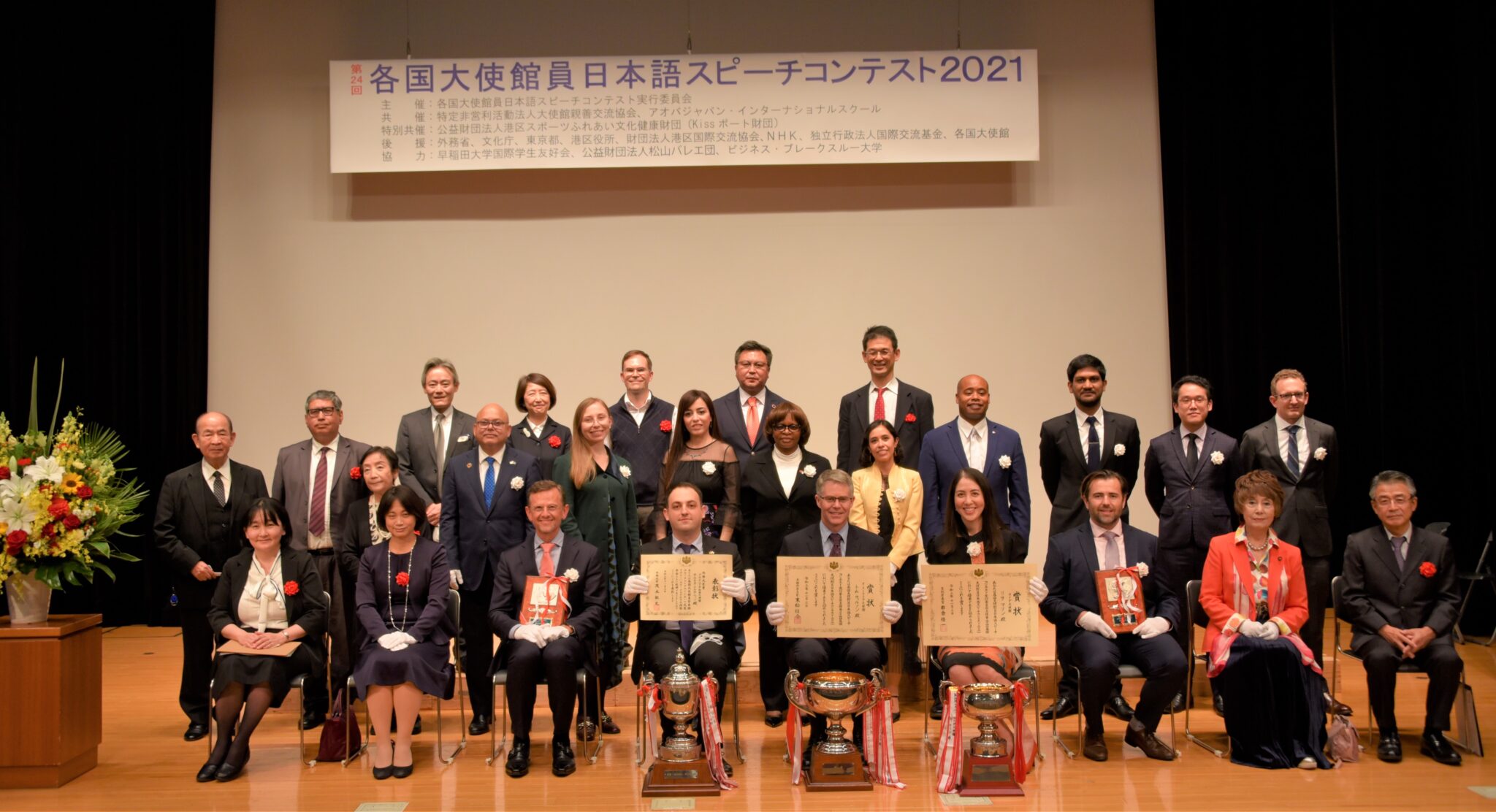 | | | |
| --- | --- | --- |
| Foreign Minister Award | The Republic of Armenia | Dr. Sargis SHIRKHANYAN  |
| Minister of Education, Culture, Sports, Science and Technology Award | Australia | Mr.Tom Wilson |
| Agency for Cultural Affairs Commissioner's Award | Canada  | Ms. Lisa Mallin |
| Judge's Special Award  | The Kingdom of the Netherlands | Mr. Theo Peters |
| Judge's Special Award  | The United States of America | Mr. Strader Payton |
Aoba organized the Committee for the contest, and also co-hosted the event with the Foreign Embassies Friendship Association.  Sponsors included the Japanese Ministry of Foreign Affairs, Ministry of Education, Culture, Sports and Technology, Ministry for Cultural Affairs, Tokyo Metropolitan Government, Minato Ward, NHK, Foreign Embassies, etc.
The contest will be broadcasted on JCOM TV as shown below;
【Name of TV show】
ジモト応援!東京つながるNews ~中野・杉並・港新宿~
【The topic of TV show】ジモト応援!生活支援情報番組 地元のみなさんに役立つ情報を発信
https://c.myjcom.jp/jch/east_01/regular/tsunagarunews_tokyo_nakanosuginami_minatoshinjuku.html
Twitter
https://twitter.com/jcomcminato
【On Air】
First broad cast:Nov 8th Mon 18:00~
Re-air : Nov 8th Mon 20:30~/22:30~,  Nov 9th Tue 11:00~
【Channel】
Digital terrestrial broadcasting11Ch(JCOM Cable Area : Nakano, Suginami, Minato, Shinjuku area)
【You can also see it in the free app!】
With「どろーかる」(Dorocal) App, you can watch it regardless of area for a week after the first broadcast.