Cooperation agreement between Kyushu Lutheran School and Aoba
19 December 2022
Comprehensive cooperation agreement signed for the development of international education in Kumamoto Prefecture.

Aoba-Japan International School has decided to cooperate with the education corporation Kyushu Lutheran School, which has long been involved in English education and education that fosters internationalism in Kumamoto Prefecture, mainly through foreign teachers, as part of its activities to contribute to the spread of international education and English education in Japan.
With the opening of TSMC's Kumamoto plant in 2024, and the need to develop various infrastructures in Kumamoto Prefecture, Kyushu Lutheran School has decided to actively contribute to this in order to provide the necessary level and quality of international education to the children and students living in Kumamoto, and Aoba has been selected as an educational partner and will provide comprehensive support in these new endeavors.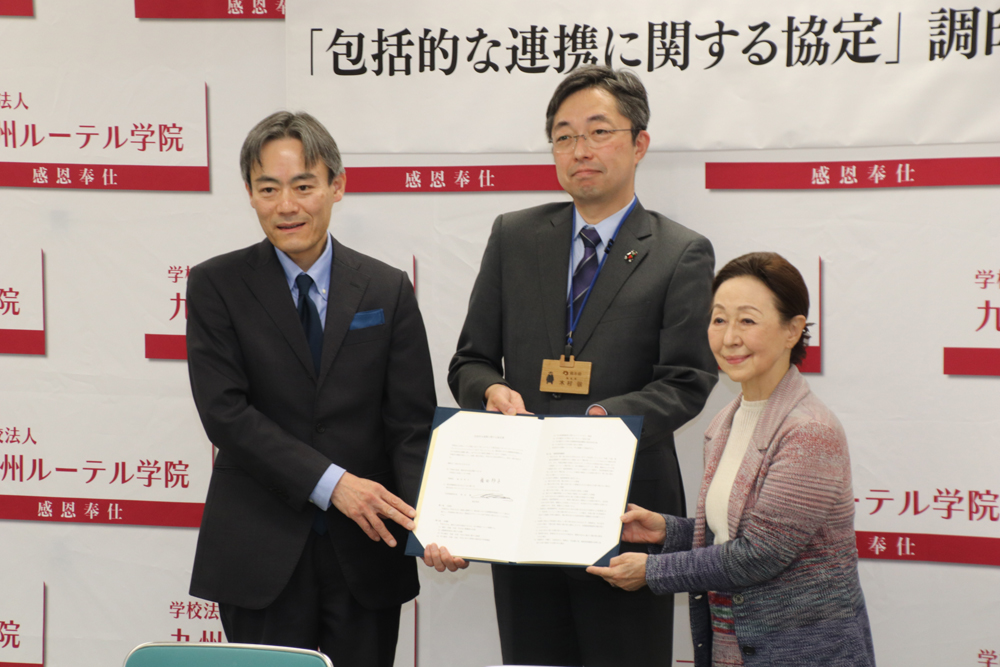 The signing ceremony and press conference were held on 16 December 2022.
Aoba and Kyushu Lutheran School will contribute to the development of international education in Kumamoto by realising the following activities through this comprehensive agreement.
Establishing an international primary school

Provide international education to the Lutheran school junior and senior high school students

Providing opportunities for off-campus students to take part in international education

Acquisition of an international curriculum (e.g. International Baccalaureate)

Accreditation by international educational accreditation bodies (e.g. CIS) 

Exchange of students and staff

Organising seminars and other events to promote international education
Aoba aims to support the internationalization of education in Kumamoto Prefecture and contribute to the further development of international education in Japan through an educational partnership agreement with Kyushu Lutheran School.
Furthermore, we will strive to promote international education in various regions, including other prefectures and overseas, and contribute to the provision and development of a world-standard, high-level international education.
Kyushu Lutheran School website
https://kluther-gakuin.jp/