Band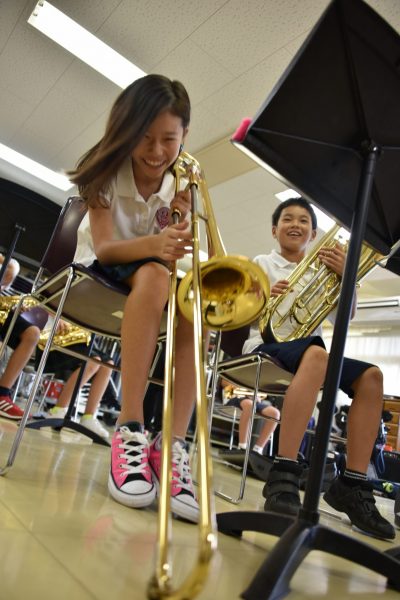 Beginning Band is for fourth grade learners and older who are just beginning to learn their instrument and more about music. We will develop our skill and musicality as an ensemble.
Concert Band is for students who have been playing an instrument for at least one year. Learners will develop their strengths as ensemble members and soloists while exploring a varied repertoire. Students in grade 6 and older will have opportunities to perform outside of school in band festivals for international schools.
Eliza van Kan: Instrumental Music
Ms. Eliza is our PYP music and instrumental teacher. She comes from Baltimore, Maryland, in the US where she played piano and trombone in her university's ensembles. She also was a coach and accompanist for elementary and middle school instrumentalists and choirs in the greater Baltimore county region. Outside of academics, Ms. Eliza was a music director for a number of community theater groups and has enjoyed directing singers and instrumentalists in productions such as Little Women and 13. Last year, Ms. Eliza led the ASP Beginning Band and ASP Concert Band twice a week. Members of the groups had the opportunity to participate in community events such as the Nerima Universal Orchestra and the Olympara Music Concert, and other international school events such as the KPASS Solo and Ensemble Festival, KPASS Jazz Festival, and KPASS Middle School Honors Band.
Learners will develop their strengths as ensemble members and soloists while exploring a varied repertoire.
Eliza van Kan