Meet Mr. Sam, our School's Learning Support Teacher
16 January 2018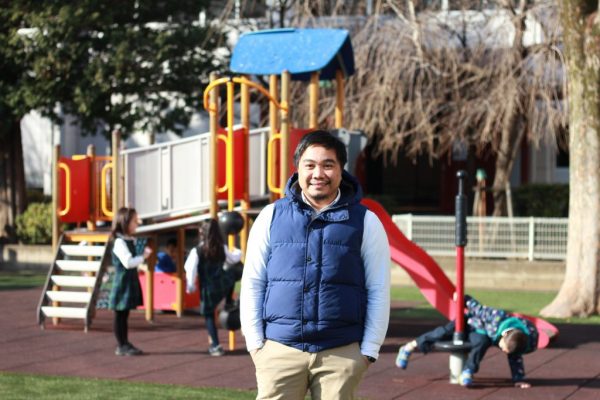 "They may forget what you said but they will never forget how you made them feel." – Carol Buchner
What would your autobiography be called?
SAMwhere Only We Know.
Where are you from and how long have you been living in Tokyo?
I was born and raised in the Philippines. I have been enjoying living in Tokyo for the last 5 wonderful years now.
Where have you lived/worked?
Japan is the first country where I have worked and lived apart from the Philippines. I always been fascinated by the mystic beauty of European countries and would like to work and live there when given an opportunity. Also, waking up and living a life in a place where there is blue sky, white sand, and turquoise water is a dream for me.
What did you study, why, and what did you like the most?
I have a bachelor's degree in healthcare with speciality in Psychiatric/Mental Health Nursing. I took a postgraduate course to be able to acquire my Professional Teaching Certificate. As a lifelong learner, I am currently pursuing a master's degree in Education.
What are your roles here at A-JIS?
I am a Learning Support Teacher catering to the academic, behavioral, social and organizational needs of identified students from kindergarten to Grade 12. Further, having a health care and counseling background I am also available to provide physical and emotional "first aid".
What do you like most about your profession?
I enjoy mostly the day-to-day of my job, the people that I work with as well as the students. Also, seeing learners achieving success by meeting goals in their individual plans is the most rewarding part of my profession. Seeing them utilize the strategies you taught them inspires me to always go the extra mile.
What do you enjoy the most about life?
I trained myself to see the beauty and positive things in every situation. Having that mindset, I mostly enjoy life even with the simplest and ordinary twists and turns. Quiet time, a perfect summer day, a good night's sleep, a hearty laugh with friends and small moments of enlightenment make me enjoy life.
What do you do for fun?
I love traveling as it helps me to see different perspectives in unfamiliar space and time. When I travel I like writing in my journal as it helps me process and reflect on my thoughts and feelings. I also love fun days under the sun and the joy it brings when I submerge my body in the water. I shut down everything and just listen to my thoughts while treading water. Playing badminton is something I do for fun as well.
What's the most unusual place you have visited?
Unusual place? I would say the Rice Terraces in Banaue, Philippines. They are 2,000-year-old rice terraces hand-carved by the indigenous people of that province. It is often called the "Eighth Wonder of the World". It is exceptional that people hand-carved 1,500-meter terraces that have their own irrigation and continue to flourish and survive.
Is there something interesting about yourself you would like to share?
My full name is Samuel but people I know fondly call me Sam. I love spending time in the kitchen, either cooking or eating 🙂